Facebook was born in 2004, Twitter in 2006, and Instagram in 2010.
Within that space of time, the Philippines has always figured in statistics showing the exponential growth of social media users globally.
In the early years of Facebook, the largest number of its users was in the United States. And in the order of the next ten countries that followed, the Philippines placed seventh.
But in 2010, something remarkable happened.
In the data released by Facebook Global Monitor for the year ending February 2010, the Philippines placed second to Taiwan among the ten countries in which Facebook grew fastest.
And according to the data released by Rappler, the number of Filipinos using social media skyrocketed in 2010 to 23.36 million from 8.27 million Filipino users in 2009.
In 2015, the number doubled at 47.13 million.
According to the Digital in 2017 report of Hootsuite and United Kingdom-based consultancy We Are Social Ltd., Pinoys allocate at least "four hours and 17 minutes per day," almost half of the hours they need to be at work or sleep.
STARS JUMPING ON THE BANDWAGON. Globally, social media have altered the digital era from Age of Information to Age of Influence.
Case in point: the celebrities in the Philippines.
Suddenly it mattered that Anne Curtis had one million followers on Twitter.
That was in 2011, the year she launched her Annebisyosa album, which reached platinum status in December, and topbilled the blockbuster film No Other Woman.
In 2012, Daniel Padilla became a phenomenal star.
He bagged the male lead in The Princess and I, released his self-titled album (which became certified double platinum), and starred in two films.
Partly, he got help from his Twitter followers, who had consistently made him a trending topic that year.
At present, he has 6.5 million followers on Twitter, ranking next to Vice Ganda who has 9.87 million followers.
Marian Rivera overcame her cynicism towards social media and decided to create a Facebook account in 2013.
Within a short time, she became the country's undisputed Queen of Facebook with over 18 million fans to date.
Team Kramer—composed of actress Cheska Garcia and her husband Doug Kramer together with their children Kendra, Scarlett, and Gavin—does not need exposure on television or on movies to get them lots of endorsement projects.
Back in 2014, Cheska had told PEP.ph (Philippine Entertainment Portal), "We didn't really think it was important," until, she admitted, one of the advertisers asked, "'Do you have Facebook?'"
Doug went on to create a Facebook fan page for Team Kramer, which now has 8.6 million fans.
Their three-year-old YouTube account has 159,987 subscribers.
Twitter also propelled the popularity of AlDub, whose trending KalyeSerye episodes on Eat Bulaga! in 2015 made Alden Richards and Maine Mendoza the love team to beat.
Indeed, these platforms have changed the popularity game in showbiz.
And more stars are coming out to play.
Megastar Sharon Cuneta finally joined Facebook on November 3, 2016, and recently started her "sharing" sessions, where she gives her followers a peek into her collections of bags, jewelry, etc.
Ogie Alcasid has become more active recently, and even started posting his OOTDs.
Teen stars have mastered the art of flat lays, and easily generated millions of followers on Instagram.
Andrea Brillantes, 14, has 2.4 million followers on the photo and video-sharing site.
She actually plans her posts, including the time of their postings.
In a previous interview with PEP.ph, she said, "Ako lang po yun lahat—makeup, shoots, pati editing.
"Pati yung time, alam ko kung anong oras maraming magla-like."
MONEY-MAKING PLATFORMS. Social media are no longer just a hobby. They've become valuable marketing tools.
A YouTube account with over 100,000 subscribers and more than two videos per day can earn as much as 100,000 pesos per month, depending on the number of views.
A star's following on Facebook, Twitter, and Instagram is now part of the advertisers' criteria when choosing endorsers and brand ambassadors.
For this article, PEP.ph interviewed three people knowledgeable about the workings of social media—one from the digital marketing agency of a huge talent management company; one from public relations industry; one from the advertising.
(They all requested for anonymity since the interview tackled talent fees, which are generally confidential.)
The digital marketing executive succinctly put it this way: "Mas konti ang followers mo, mas maliit ang value."
Yes, a star's "value" these days is not just measured by television ratings, box-office success, and commercial exposure.
It is now determined by the success of a star's massive, continual interaction with a potential pool of a million people sharing, liking, commenting, and retweeting his posts.
Virality is also crucial. It can produce an overnight Internet sensation, and instantly put an unknown on the radar.
Fans have become talent managers of some sort, ensuring that their idols are constantly trending and dominating the feeds of netizens.
Fandoms have never been this overzealous to the extent that they can draw the attention of advertisers and media to their favorites.
Scrutiny and bashing have never been this intense, too.
But we remember Andrea Brillantes admitting, "Mapag-iiwanan ka po, e. Kaya kahit na may mga online bashers na sobra talaga, kailangan cool ka lang."
Put it simply, a hiatus from social media can possibly doom a star.
STARS' LOOT FROM SOCIAL MEDIA. How do the stars earn their keep from social media?
The digital marketing executive revealed the price range of fees depends on the number of followers.
She said, "For Twitter accounts with 100,000 to 500,000 followers, it's PHP25,000 to PHP50,000 per tweet.
"For Facebook pages with 500,000 to one million followers (minimum), it's PHP30,000 to PHP50,000 per post.
"But, of course, it would also depend on whether they are prime stars or not.
"The manager has a say, too."
According to the advertising client, Kathryn Bernardo, who has 1.2 million followers on Facebook and 5.7 million followers on Instagram, won't agree to "PHP50,000 per post."
He added, "Of course, they will factor in her value as an endorser."
Say, a big star attends an event and she posts photos on Instagram. The minimum fee, according to the owner of a public relations company, is "one hundred thousand pesos, excluding the glam team."
The P.R. boss added, "She can't be photographed beside the brand."
Some celebrities manage their own social media accounts and are willing to agree on exchange deals and gift certificates worth at least 10,000 pesos.
But, "They take pics with no hashtag. They do Instagram stories, which get deleted after a few hours. Or they post one photo and follow it with a lot of photos not related to the event."
Why?
"Para malunod. Hindi gaanong makita. Some celebrities ask their fans to push."
DIGITAL BRANDING. Usually, the outgo for a commercial produced for Web amounts to "70 to 75 percent of endorsement rate."
The digital marketing executive said, "Actually, medyo pumapantay na siya ngayon sa TV commercial.
"Marami ng brands ang going to digital."
So if a star is earning 20 million pesos for each TVC, she gets 15 million pesos for her web commercial.
In addition, "The live feed na Q & A on FB is usually like an appearance sa event.
"Fee would range from PHP80,000 to PHP500,000 depending on the scope, duration, and nature of promotions.
"If it's to say hi and hello, that's 'PHP80,000 to PHP100,000.'"
The advertising client pointed out, "That's why they couldn't just leave social media even if there are a lot of bashers.
"I mean, if you can earn PHP50,000 for a post, then you can choose not to look at the comments."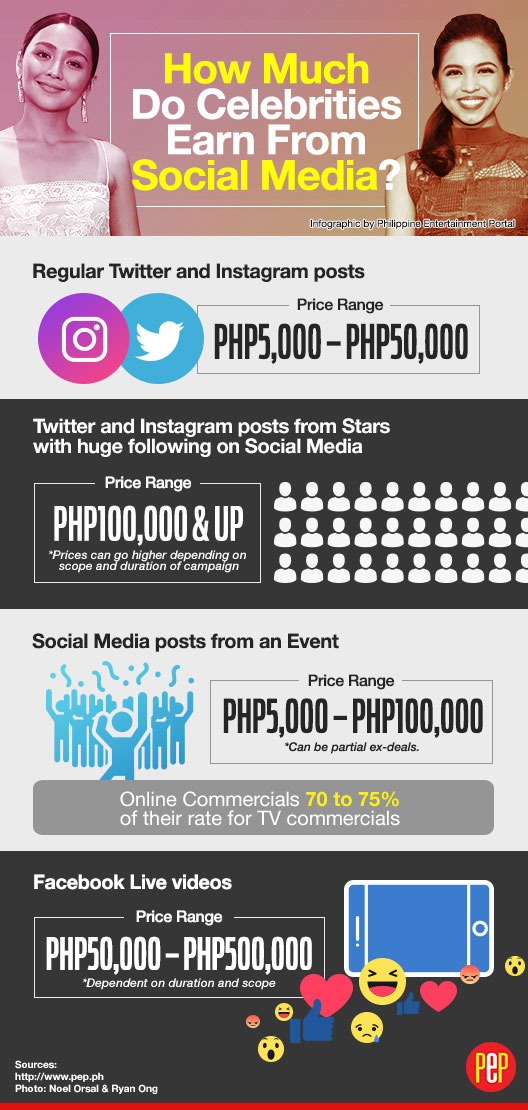 Engagement also matters.
The digital marketing executive remarked, "Sa Europe, they don't look at the followers.
"They look at the likes, the interaction.
"Daniel Padilla has a few followers, but his one post would have 2,000 to 3,000 comments or more and 100,000 likes, so that's also a consideration."
A star's "branding" has also remained imperative.
The advertising client said, "That's why their posts are like products of pictorials.
"Look at Heart Evangelista's feed, she always has beautiful backdrops.
"Solenn Heussaff is top-of-mind when it comes to active lifestyle products.
"Social media have helped them show the kind of image and personality they have.
"If they want to be known as fitness and health buffs, they post exercise videos.
"If they want to attract food brands, they learn how to cook."
LIKEABILITY. But, of course, honesty remains the best policy.
Likability is earned not just from posting goody photos.
Hence, people find the no-holds-barred posts of Angelica Panganiban and Ellen Adarna refreshing.
The bashing also subsided after Arci Muñoz decided to respond to the retokada allegations.
Let's not forget how controversial stars were able to turn things around through "sincerity and consistency."
According to the advertising client, "Whether those two words are merely a perception, the point is, it's easy to redeem yourself on social media."
Conclusively, the valuable hashtags are #growth and #presence.
Increase your tribe, the bigger you become, the greater your income. Learn from the stars. Be present at all times.