Those who lived through the late 90s and early 2000s would remember Jannelle So as the well-liked courtside reporter of the Philippine Basketball Association (PBA).
But she definitely was more than just a pretty face.
In a sport dominated by males (tall males at that!), this 5'1" alumna of Miriam College stood out, expanding the scope of her network to boxing since she covered Manny Pacquiao's boxing fights more than ten years ago.
She also maintained a column title "The Score" in The Philippine Star.
When asked about the highlights of her career, she told this writer via an exchange of emails, "One would have to be covering the ASEAN Summit in Malaysia while only doing part-time hosting for IBC-13.
"At the time, I was still in college and enjoyed 'traveling for work.'
"I was also sent to help cover the Asian Games in Bangkok in 1998, and it was my baptism of fire.
"I was only with Vintage TV for six months, and I cringe every time I remember that. It was difficult and embarrassing, but I learned a lot.
"I loved covering the NCAA [National Collegiate Athletic Association] games and, of course, the PBA Championships!"
She left for the U.S. in 2003.
"Yes, it was a very difficult decision. I didn't want to leave," she wrote.
"In fact, even when I decided to leave, I only planned to be gone for a few months.
"I did not intend to stay away for good."
It took the Filipina-Chinese sportscaster/columnist one year before she could embrace her life in the U.S.
Jannelle continued, "At first, I did it to be with my family who moved to L.A. a few years prior to me moving.
"My dad convinced me (or maybe tricked me) to try it out, even for just a few months; and if I still didn't like it, he would give me his blessing to move back to the Philippines and would never ask me again about moving to the States to be with them.
"And then after about a year, I started to settle in.
"I have always been very close to my family.
"While living in the States with them, I realized having them around was more important to me than my career back in the Philippines.
"Home is where my family is."
And a television career would follow her wherever home is.
In 2007, Jannelle hosted the daily talk/magazine show Kababayan LA.
But the job wasn't handed to her on a silver platter.
Describe to us the transition. What made you decide to stick with television even after leaving the Philippines? Has it ever crossed your mind to move to another field?
She confessed, "I didn't think I could still do TV in the States. The industry here is much bigger and more competitive.
"I also couldn't dive into it right away because I had to sort out my immigration status.
"I came in as a tourist. But when I decided to go to school, I had to give up my tourist visa for a student visa. And when that visa expired after about a year, I had to look for an employer to sponsor my work visa.
"At one point, I had two concurrent work visas under two different employers.
"Eventually, I got my green card, and then citizenship through my parents."
Prior to her TV stint, she was into sales.
Jannelle added, "I first worked as an advertising agent for a newspaper. I actually applied to be a staff writer. But the publisher said they would only sponsor my work visa if I brought in sales. I had to learn to sell newspaper advertising. And I thought I was ok to do it for a long time.
"But an opening came up at a local station. At the time, the premiere Asian-language station in Southern California was looking for a host/producer who could launch a daily Filipino talk show.
"When I auditioned, my practical training permit was about to expire. I thought I was only going to 'practice auditioning' because at the time, I was already planning to go back to the Philippines after my permit expired.
"I got a call about months months after my audition. They asked me go in for an interview."
In the nick of time, her two problems—visa and career—were solved.
She continued, "And after that 'second look,' they offered me the job. When they told me I was going to train for two weeks, starting the next day, I told them about my permit and that if they wanted me to for the position they would have to get me a work visa. They obliged.
"I was so happy!
"I created and hosted and produced America's first and only locally-produced daily talk show for Filipinos.
"And because of my advertising sales experience, I did not just take care of the production side for the show; I also sold it to advertising clients.
"I basically ran the whole operations for 8.5 years, until I decided it was time to take a break to work on an even bigger production… a family."
Jannelle has been married to Lester Perkins since 2014, and has a daughter named Lilly.
She remarked, "I feel so blessed to be married. After a few failed relationships and even a broken engagement, didn't think I was ever going to be somebody's wife.
"I thought I was happy building my career and enjoying its fruits.
"But after a while, I stopped feeling fulfilled by material things. I got bored with social events. And I eventually got tired with work.
"I realized then that for me, it was not fun going home to an empty house, after a long day.
"I wanted to have a life partner. I wanted to become a mother. I wanted a family.
"And now that I have a loving and supportive husband; and an adorable little daughter (I'm biased, of course!), I am convinced that my life is complete."
Her husband is an Englishman who moved to L.A. from London.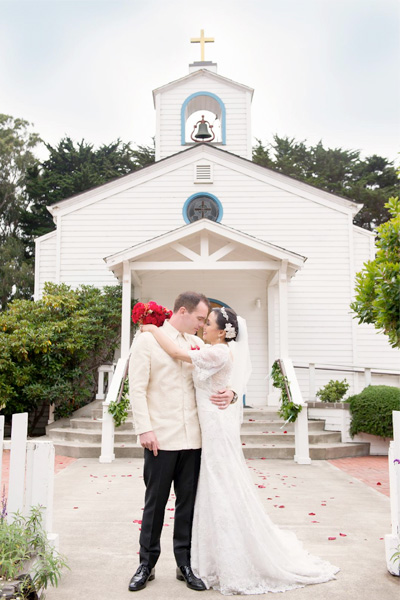 She elaborated, "We met online. He is the most loving, kind man I know.
"He is the VP/creative director in one of the divisions of the U.S. media giant, CBS.
"He flew me to England, to meet his family, about four months after our first date.
"Four months after we came back to L.A., he started taking the RCIA [Rite of Christian Initiation of Adults] course, to convert to Catholicism.
"It was a nine-month course, with three hours of class every Wednesday night. He told me he was doing it because he knew how much my faith meant to me.
"He proposed exactly 12 months after we first exchanged emails online.
"We got married seven months after that. And about 17 months later… our daughter, Lilly was born."
Motherhood, she said, is "the most difficult thing I've ever experienced; but at the same time, the most rewarding."
Jannelle's daughter is turning two.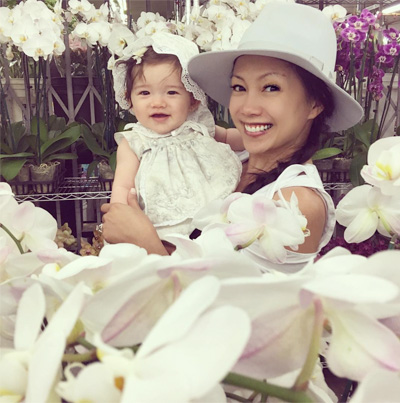 "I expected to enjoy motherhood, but not this much. I am a very hands-on mom.
"I didn't work for about a year and a half after she was born, and even with a live-in nanny, I attended to her every need—milk, food, clothing, etc.
"Now, I still cook her meals. I do her laundry. I pack her lunch and snacks for school. I read to her, take her to the library.
"I enjoy spending time with her. She is this little person who now calls me 'Mommy'… and I never knew joy until I heard that!" she remarked.
Aside from motherhood, she's presently busy with a weekly lifestyle magazine show that airs on TFC, with replays on Lifestyle Network, in the U.S.
It aims to address issues, feature events, and highlight a variety of aspects of the Filipino lifestyle in North America.
"My husband (bless him!) helps me with creative direction. He is an awesome artist, was a TV commercials director in London and in in L.A. before he accepted a position with CBS.
"And so this is how I describe the show—a marriage between Filipino sensibilities (issues, discussions and features) and mainstream look," she disclosed.
Lastly, what do you miss most about the Philippines?
"Lanzones, atis, mangoes, California roll with mangoes, shopping at bazaars, especially during Christmas time," she reminisced.
Biggest lesson you've learned so far?
"Prayer works!" she said.
Waiting for the perfect timing also plays crucial.
"Whatever I have right now, I prayed for. It took God to answer some of my prayers. It took Him a few years to bless me with a husband, a child and a family—but He did," she acknowledged.
For more on Jannelle and her show, follow @sojanelle on Instagram.