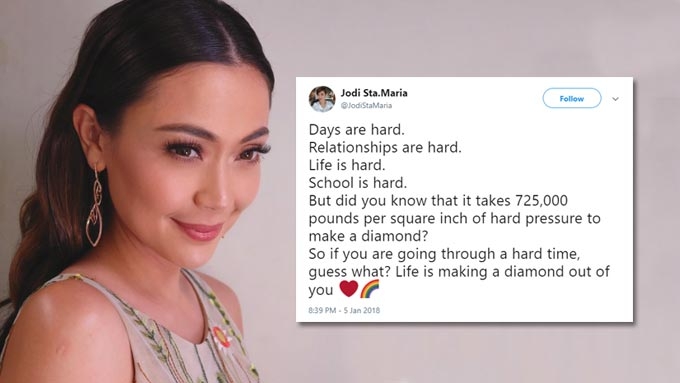 IMAGE effieinigo on Instagram / jodistamaria on Twitter
---
Celebrities use Twitter for various reasons.
The majority use Twitter to interact with their fans online. They like, retweet, and reply to their comments whenever they can.
For others, it is a vehicle to promote their social media page as well as their current projects.
And for Jodi Sta. Maria, the microblogging site is her platform to share nuggets of her self-reflection and bite-sized thought pieces about life.
A sample:
Her inspirational lines have so far attracted millions of retweets, likes, and followers.
Struggling with a toxic relationship?
Here are Jodi's sage pieces of advice:
Need a quick dose of self-motivation?
Heed her words:
Here are more consoling words from Jodi:
In need of a lift? Pay attention, Jodi is talking to you: