Aga Muhlach and Charlene Gonzalez's 16-year-old son Andres is no doubt a heartthrob.
At the press launch of the Muhlach family's newest Jollibee endorsement, Atasha's twin brother was greeted with kilig.
And though he has not officially joined showbiz, his online followers have been multiplying without him making any effort.
Looking at his Instagram account, which only has five posts, Andres already has more than 23,000 followers.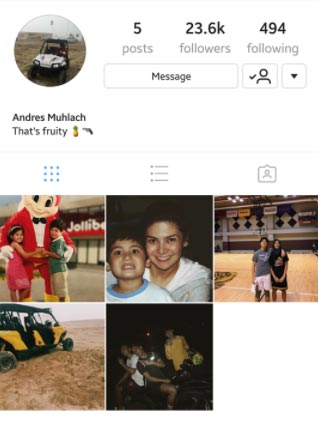 The videos of him posted on PEP's Instagram account easily reached more than 100,000 views, with comments mostly coming from his female admirers.
In an interview after the event, Andres was asked, "Hindi ka pa ba ginugulo ng mga girls?"
The six-feet-tall son of Aga just smiled.
"I get fairly okay. It's not that bad. It's kind of nice. It has its pros and cons."
He got shy though when teased about being a heartthrob like his dad.
Is he already allowed to court girls or date?
Mommy Charlene quickly threw in, "Wala pang ladies. Wala pang girlfriend."
But the celebrity mom clarified that they're not restricting their kids from getting involved in romantic relationships.
"Hindi naman bawal. I won't stop him if may crush siya o magkaroon siya ng girlfriend.
"I won't stop that naman. I just have to prepare myself," she said laughing.
For his part, Andres knows his priorities.
He said, "They're still trying to prepare me. It seems my dad is fine with it."
It looks like fans will have to wait a little longer before they can see him regularly on TV.
Andres and his sister Atasha promised their parents that they will finish their studies first before joining showbiz.
But he's okay with doing commercials every now and then.