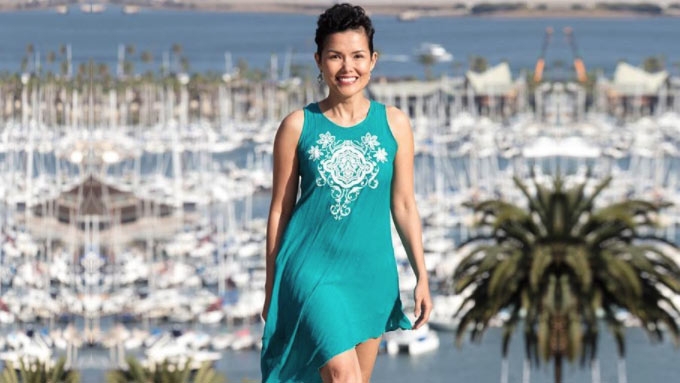 IMAGE jaymee_wins on Instagram
---
It's inevitable for a lot of women to get married and have kids, but there are some who choose to be single and child-free.
One of them is former ABS-CBN game show host and breast cancer victor, Jaymee Joaquin.
After becoming cancer-free in September 2017, Jaymee continues to rebuild her normal life as a single Filipina living in San Diego, California.
She keeps everyone updated with her daily musings and adventures through her YouTube channel, Jaymee Wins.
In one of her recent vlog entries, the former Kapamilya talent opened up about the reality of living a child-free life.
She confessed that family-centric holidays such as Christmas and Easter would make her feel awkward and sentimental.
"I'm 38 years old with no kids…" Jaymee said.
"Every time there's an occasion for family that's about to come, I feel a bit awkward and sentimental.
"Number one, my family is not here in the U.S. and, number two, I don't have children…
"I'm fine with the path I choose, but sometimes, I feel as though the society makes childless people at my age or even older feel like we're kind of out of place."
Jaymee once expressed these thoughts to a close friend based in the Philippines.
They both felt like single people above 35 are being "taken for granted."
She continued, "You know, at a certain age, like proximately 35 and above, everyone starts having children and people like me who are child-free, still enjoying life, and just focusing on myself—the crowd gets thinner because wala ka na makasama.
"My friends normally just don't see me as often because they have to take care of their children, they have their mother duties, their wife duties—and I do get it.
"I do get that motherhood is not a walk in the park, and there's a lot of responsibility involved, but what about us?"
ADVERTISEMENT - CONTINUE READING BELOW
Jaymee admitted to feeling alone sometimes.
"We have problems finding ourselves in this big world full of opportunities, and we get lost.
"And sometimes, we wanna have just good company. Not necessarily romantic, but you know, friendship…
"Give us more importance as well, because we do have our own problems.
"We do feel lonely, too."
FEELING ISOLATED. And the "judgment" makes thing worse.
The former host-turned-vlogger elaborated, "Like, you know, when you're focusing too much on yourself, people think, 'Oh, all she thinks about is herself. All she focuses on is herself.'—which is a good thing!
"Because what am I supposed to do? Not take care of myself?
"I'm the only one I have, right?
"I think there's this gap.
"In your twenties, it's so easy to find people like you, child-free and carefree, and then retirement.
"But in that stage in between, like in my case, it just feels so isolating sometimes.  
"We don't have someone that we take care of, so we naturally take care of ourselves.
"So, of course, I'm going to be talking about my yoga, my travels, my plans, and I don't think that's being selfish.
"It's just me telling you what people without children do, and that's just how it is, right?
"It's just the right of people with no kids to invest on themselves…"
---
Stories We Are Tracking
---