Gusot na damit is a common problem.
Even if people allot time to iron their clothes, fabrics like cotton, rayon, and linen wrinkle easily.
There's a way to address it, but first, you have to invest in a steamer.
WHY IT'S BETTER THAN IRONING Aside from the fact that it is easier and faster to use than an iron, a steamer can help kill odor-causing bacteria.
Steaming is also said to be effective in removing allergens that attract dust mites.
And since it only uses water and does not require detergents or other chemicals, it won't pollute the air.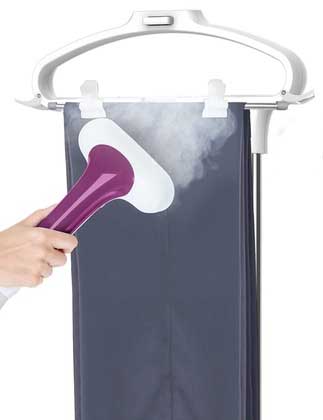 HOW DOES IT WORK? Don't worry, it's not too complicated to use it.
Just fill the tank with water, plug the steamer in, and wait for it to heat up.
Hang the garment, then run the steamer downwards over the fabric, while pressing the trigger to release steam, which will smoothen the crease.
Let it dry.
Lastly, a few dont's:
1. Don't steam suede, waxed jackets, and anything that may melt.
2. Don't steam while you're wearing the shirt or dress.
3. Don't over steam so as not to blow the seams.