Pancit canton is a Filipino household staple, even those from the well-heeled set.
While most of us probably use our good ol' pots when cooking the umami-filled noodles, Gretchen Barretto isn't exactly like the rest of us.
For starters, she makes her pancit canton in cookware worth US$330 or, in today's exchange rate, PHP17,330.
La Greta went Live on Instagram yesterday, May 30, and showed her followers how she likes her pancit canton.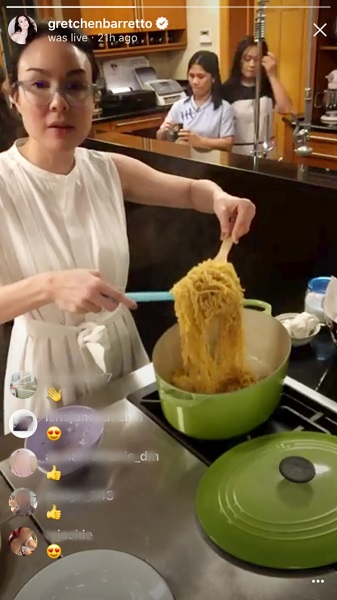 "This is so yummy!" she began.
"This is the seasoning of Lucky Me Pancit Canton," she said, before proceeding to mix the sauce with the noodles.
"This is perfect with Spam," she said, referring to the canned cooked meat.
After tossing the sauce and noodles, she then added several beaten eggs to the pot.
"I put this 'cause I want my noodles like, super moist...see? I put eggs."
"I want mine very spicy but the others don't want spicy."
The 48-year-old actress, who regularly regales her followers with her kitchen adventures (she previously cooked grilled cheese sandwich while on IG Live, too), said she adds another element to make her pancit canton perfect for her taste.
Her secret? "Delimondo chili and garlic oil. See I put this? Then I put cayenne [pepper flakes] just because I like it very, very, very chili [spicy]."
To those who love cooking though, it was Gretchen's pot, a Palm Le Creuset dutch oven, which caught their attention.
The pot's lid features the iconic three rings, which is found in most, if not all of Le Creuset's products.
The French brand Le Creuset is considered a top choice not just for their high quality products, but also because of their colorful sets of cookware.
For the uninitiated, dutch ovens are made of cast iron and are ideally used for baking, braising meat, and cooking soups and stews.
We can now add instant pancit canton to that list!