Kris Aquino is known for her generosity especially to people who have been loyal to her.
In Ginza, Tokyo, Japan, where Kris's family is celebrating her eldest son Josh's 23rd birthday on June 4, she gives Yaya Bincai Luntayao a Cartier necklace.
Partly, she wants to thank her for taking good care of Josh for more than ten years.
Bincai's older sisters Gerbel and Raquel became Bimby's yaya, and both of them left after getting married in October 2015 and January 2018, respectively.
A Japanese belief gave Kris an idea on how to make Bincai stay with them, thanks to his employee Jack Salvador's godmother, who is their interpreter for this trip.
"[She] told me that a heart w/ a hole in the middle will never give a single woman lasting love according to a Japanese cultural belief— alam niyo naman ako mabilis ma-convince.
"I've had this @cartiernecklace for several years—and double purpose na, to show Bincai our love & gratitude and to make sure she stays w/ us for many more years."
She went on enumerating her good qualities.
"It was her discipline that made Kuya lose the 140 lbs & on her weekends off when Raquel calls her because my BP goes haywire or my allergies act up, she immediately cuts short her rest to take care of me.
"Thank you Bincai for really loving us."
Kris's gift to Yaya Bincai is from Cartier's Trinity collection, and features a pendant with three interlaced hearts and, as mentioned by Kris, a hole in the middle.
Based on Cartier's website, the one with less diamonds costs $4,400 or PHP224,400.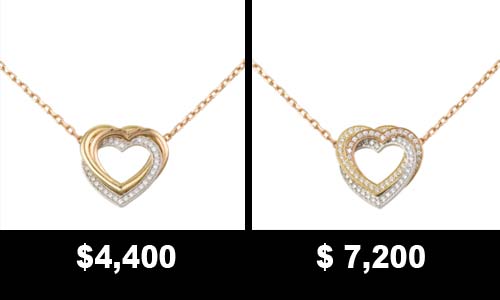 Bincai's pendant has diamonds all over the three hearts.
Its current price is $7,200 or PHP367,200.