Heart Evangelista and Toosty Angara showed their support for two important bills currently being pushed for approval in the Congress.
Both ladies wore different pins with similar rainbow designs at the State of the Nation Address that took place in Batasang Pambansa Complex, Quezon City, earlier today, July 23.
READ: Heart Evangelista pins support for SOGIE at SONA 2018
The wife of Senator Chiz Escudero made a stand for the Sexual Orientation, Gender Identity or Expression (SOGIE) Equality Act.
Her post read: "Everyone has the right to live, work, and dream.
"The SOGIE bill is a step in the right direction to guarantee the protection of those rights, especially for our friends in the LGBTQIA+ [lesbian, gay, bisexual, transgender, queer, intersex, asexual] community.
"Last year, the bill made great progress but we still have a long way to go.
"My husband and I are in full support of this bill and hope to see it move forward and become a law. (rainbow emoji)"
The SOGIE bill aims to protect the human rights and legal privileges of the LGBTQIA+ community.
It has two versions that are currently in the process of securing approval from the Congress.
CNN Philippines' report dated September 2017 indicated that Bataan 1st District Representative Geraldine Roman's version of the bill has been approved for its third and final reading in the House of Representatives.
This House Bill is cited as "The SOGI[E] Discrimination Act" or House Bill No. 267, and on the bill's explanatory note, this "seeks to define, prohibit, and penalize situations and practices wherein discrimination on the basis of sexual orientation and gender occur.
"It also aims to protect members of the LGBT community and guarantee their rights as citizens do the Republic of the Philippines and their rights as human beings."
Rep. Geraldine, the first transgender congresswoman to be elected into the House, filed this House Bill back in 2016.
Meanwhile, Senator Risa Hontiveros filed her own version of this bill in Senate that same year.
Cited as "The Anti-Discrimination Act" or Senate Bill No. 935, it also seeks to protect the LGBTQ+ community from discrimination.
On the Senate Bill's explanatory note, Senator Risa listed down examples of how the LGBTQ+ community has been deprived from basic human rights.
It read: "Cases of discrimination and inequality have remained invisible to our national policies and reduced to insignificance by homophobia and stigma.
"The reports document experiences of transwomen who were being denied the right to express their gender identity in school and in the workplace; of gay men who could not donate blood because of a government memorandum prohibiting homosexuals from doing so.
"There were transwomen who were forced by authorities to appear masculine before their passports could be renewed...
"There were cases of gender non-confirming students who were being bullied in schools affecting their performance and ultimately their access to education...
"These stories reflect the historical prejudice against LGBTIQs denying them full access to basic human rights and excluding them from fundamental equality before the law.
"The lack of protective laws and supportive policies is an unfortunate reality.
"This neglect is affording impunity from committing discrimination and tolerating human rights abuse."
This Senate Bill is pending for its second reading.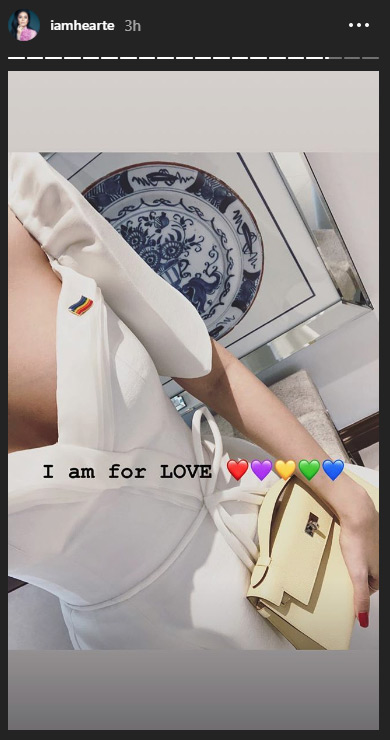 EQUALITY FOR ALL
Tootsy's rainbow-streaked pin symbolized her support for the "Comprehensive Anti-Discrimination Act" or Senate Bill No. 948.
This Senate Bill, which was filed by her husband, Senator Sonny Angara, seeks to prohibit all forms of discrimination, penalizing practices that discriminates individuals based on their age, racial or ethnic origin, religious belief or activity, political inclination or conviction, social class, sex, gender, sexual orientation, gender identity and expression, marital or relationship status, disability, HIV status, health status, medical history, language, physical features, and so forth.
In PhilStar.com's report dated July 2, Sen. Sonny elaborated, "If we treat each Filipino equally then this means there also will be equal opportunity for all.
"We must protect every Filipino against all forms of discrimination in order to promote equal protection and equal opportunity..."
On Instagram, Tootsy seconded her husband's statement, "Wearing this pin to show my all out support for the Anti Discrimination Bill as I join the call to fight for equality and end all forms of discrimination.
"Imagine a world where you will not be judged for race, gender, faith, ethnicity…
"Where love can flow freely
"Imagine a world where people use their powers not to create conditions of oppression that lead to violence, but conditions of freedom that lead to peace"