Either this Filipina can't really speak a word of Tagalog or she simply can't follow instructions.
She looks every inch a Filipino, but no one knows about her background: Is she an immigrant or born a citizen of another country?
Either way, Filipino netizens are aghast. Can't she or she just won't speak in Tagalog in a video series titled Many People, Many Places by 31-year-old luxury and lifestyle travel magazine Conde Nast Traveler, which is based in New York City.
Each video lasts about three to four minutes where over 70 people from 70 countries "reveal how they say different words in their native language."
The first season—composed of 13 episodes—is already out on Facebook and the magazine's official website.
In one of the videos, country representatives were asked how their fellow citizens count their money. The unnamed Pinay representative counted in English instead of Filipino.
In another video, the instruction was to recite a local tongue twister, but the Pinay representative couldn't think of any.
She said, "There's really no tongue twister..."
Each representative was asked to say "Cheers!" in one of the videos.
The Pinay representative said, "There's actually no 'cheers' in the Philippines, but since it's Americanized, 'cheers!'"
Scandalized Filipino netizens snorted she could've said "Tagay!" instead.
In this video, the representatives were asked to sing the "happy birthday" song in their native language.
The Filipina sang the English birthday song instead of "Maligayang bati, sa iyong pagsilang... maligayang, maligayang, maligayang bati..."
Representatives were also asked how they could tell if someone was from their country, and the Filipina said, "Their accent, basically."
With regard to stereotypes, the Pinay representative said, "People think I'm a nurse, I'm like, 'Okay...'"
Most of the videos uploaded on Facebook received angry reactions from Filipinos.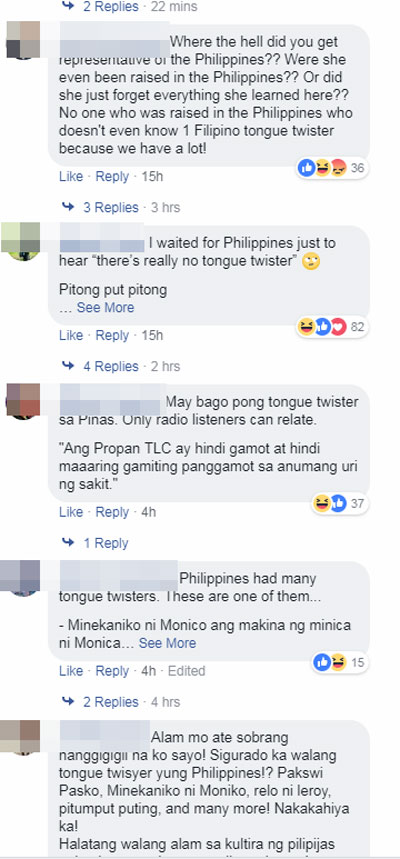 Nevertheless, the Filipino woman got a few answers correct, including "aw aw," the sound Filipinos think dogs make; "haching" or how Filipinos sound when sneezing; and the country's official tourism slogan, "It's More Fun In The Philippines."
And, in fairness, most Filipinos, even those in the provinces, sing the birthday song in English.