The Pacquiaos' recent trip to Kuala Lumpur, Malaysia appears to have been a fruitful one.
Apart from Manny Pacquiao winning in his Fight of Champions match again Lucas Matthysse, one of his sons was also winning in the romantic department.
Meet 16-year-old Malaysian-Filipina singer Yazmin Aziz, the girlfriend of Manny and Jinkee Pacquiao's second son Michael.
Yazmin appeared on Michael's Instagram feed through his two most recent posts.
One of them was a picture of Yazmin, and it was through this post that Michael confirmed their relationship.
One of his friends asked in the comments section, "Kamu na officially @pacquiao.michael?"
And Michael replied, "Kami na officially haha (smiley emoji)"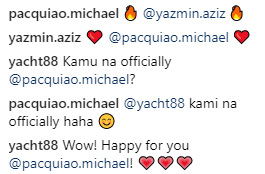 WHO IS YAZMIN?
According to Yazmin's Instagram bio, the Malaysian-Filipina teen is an aspiring singer.
She has taken part in a number of singing competitions, including DZMM's Global Pinoy Singing Idol in 2017.
Yazmin also performed for President Rodrigo Duterte during his visit to Kuala Lumpur in 2016.
She manages a YouTube channel, which features some of her cover songs.
Yazmin did a cover performance of TLC's popular song "No Scrubs" with Michael and his brother Emmanuel when they were all together in Malaysia.
LONG DISTANCE RELATIONSHIP
Michael did not elaborate on how he met Yazmin, but the two were inseparable when the Pacquiaos were in Kuala Lumpur for Manny's fight.
Yazmin was among those who welcomed the family to Malaysia, and had a chance to meet Manny himself.
When the Pacquiaos returned to Manila, Yazmin dedicated a video post to Michael which came with a sweet letter that read:
"There are so many more reasons to smile and be grateful for ever since you came into my life.
"I know I've been thanking you every single day but words aren't enough to express what you truly mean to me.
"Every moment spent with you is indeed a blessing.
"Even if we're thousands of miles apart, know that I care about you, you're always on my mind and I'll be there for you no matter what.
"The distance may be a sacrifice but I know with all of my heart that you're worth it.
"I miss you Love and I can't wait for us to be together again"
Yazmin then tagged themselves as #YazChael.