In a rare post, Kylie Padilla gave her Instagram followers a glimpse of her childhood and how she was as a sister.
The Kapuso actress has two full sisters: eldest Queenie, who briefly joined showbiz; youngest Zhen Zhen, who is based in Australia.
And despite the distance currently separating them, Kylie said that the two ladies will always be her "bestest friends" and irreplaceable members "power-puff girls."
Here's her touching caption:
"Sometimes I wonder why I'm the one in front of the camera when these two are so much cooler than me. I owe a lot of who I am and who I've become to these two beautiful girls. I love you both.
"Sorry for being so antukin when we were younger. Sorry for always falling asleep while you finished our console games. Sorry for going rogue. Sorry for being selfish sometimes. It was probably because I felt that I had to somehow measure up to both your talents.
"But now I see how much both of you have shaped me.
"To my bestest friends who just so happen to be my sisters as well. Love you both. Together we can make it through anything.
"We are the power-puff girls. Bubbles (Ate Queenie) Blossom (me) and Buttercup (Zhen). Woot woot i miss the 2000's cartoons man ugh"
PEP.ph (Philippine Entertainment Portal) also found more photos of the three daughters of Robin Padilla and Liezl Sicangco in the photo archives of YES! Magazine.
This was taken in 2004. Kylie and Zhen Zhen were in their grade-school uniforms.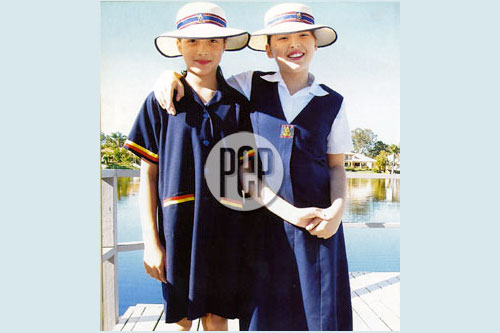 These photos were taken in 2007. Both Queenie and Kylie underwent training for arnis and Muay Thai.