Halloween has become a fun time especially for those who can't wait to dress up in a costume.
For this year, our favorite celebrity kids are just as game to look either spooky or stylish or super cute version of a movie character.
Zia Dantes as Intergalactic Princess
Early this month, Marian Rivera became extra creative and resourceful with her costume idea for Zia.
The famous mom-daughter tandem nailed it!
Zia won "Best in Costume" for her Intergalactic Princess costume made of recycled materials.
Scarlet Snow Belo as little Charlie Chaplin and butterfly
This Instagram darling transformed into Charlie Chaplin, a worldwide icon.
Then she went twinning with her mom Dra. Vicki Belo as a butterfly.
Primo Arellano as an Angry Bird
Kuya Primo was a smiling Angry Bird.
[instagram:https://www.instagram.com/p/BpBgo5LAlUX/?taken-by=drewarellano
Luna Agoncillo as Wonder Woman
Luna went twinning with Mommy Judy Ann Santos as Wonder Woman.
Then after a few minutes, Juday posted another photo, which she captioned, "May change costume si madam!"
Balthazar Semblat as Erwan Heussaff
Baltie's mom Isabelle Daza loves to dress up every Halloween.
For this year's festivities, Baltie's first costume was Erwan Heussaff.
Lucia Intal as Holly from Ben and Holly's Little Kindgom
Before welcoming her baby sister Carmen, Lucia went trick or treating with her parents Bianca Gonzalez and JC Intal.
They went as the characters of the popular British children's show, Ben and Holly's Little Kingdom.
Isabella Padilla as an angel
Isabella and her mom Mariel Rodriguez were golden angels.
Feather Prats as Strawberry Shortcake and Princess Anna from Frozen
Feather wore two costumes. Her first was as Strawberry Shortcake.
Later on, she became Princess Anna.
Olivia Reyes and Archie Burnand as Nemo from Finding Nemo
There were two celebrity kids who wore the Nemo onesie.
There's Olivia Reyes, who is now vacationing in Japan.
In one of the Halloween parties around the neighborhood, Archie Burnand also joined in the fun.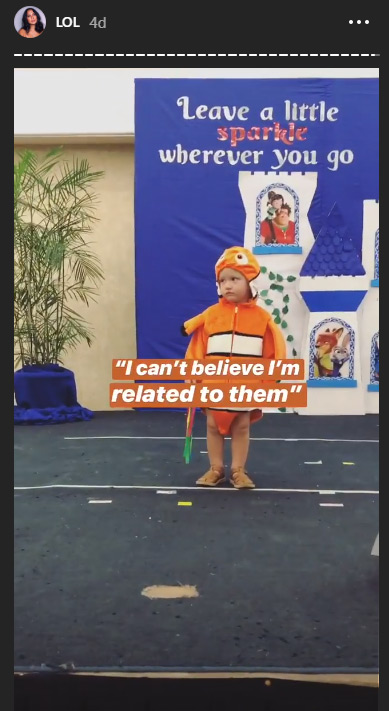 Hunter James Pitt as Boss Baby
Hunter suited up for his first Halloween.
Baz Go as Jack-Jack from The Incredibles and a Baby Dinosaur
Leave it to Mommy Divine Lee to go all-out on her son's first family Halloween.
Baz also became a slightly grumpy baby dinosaur.
Malia O'Brian as a purple butterfly
Adorable Malia was all smiles in her butterfly onesie.
Pablo Peralejo-Fernandez as a Baby Cow
Such as cute cow!
Heather Samonte-Chua as Supergirl
Twining with her mom Nadine in a Supergirl costume...
Kiera Kelly as Audrey Hepburn from Breakfast at Tiffany's
Melissa Ricks' toddler was all glammed up a la Audrey Hepburn's famous character.
Arabella Simone as Boo from Monsters, Inc.
Geoff Eigenmann's little girl easily became Boo in an oversized pink -shirt and two high ponytails.
Ellie Eigenmann
It was Ellie's request to be a black cat this Halloween. Andi sewed the costume herself!
Amelia Garcia-Birchmore
Amelia and her parents Bangs and Lloydie were a giraffe family for Halloween!
Baby Xavi as Son Goku from Dragonball
Liz Uy's one-year-old boy was super cute in his Dragonball costume!
Pancho Magalona as Winnie the Pooh and Todd Chavez from BoJack Horseman
Pancho went trick-or-treating with his parents Jim and Saab Magalona-Bacarro as Todd Chavez from the Netflix animated series BoJack Horseman.
Later on, he changed into an adorable Winnie the Pooh onesie—or as his mom captioned, "Winnie the pooper."
Kiel, Ondrea, Kaleb, and Vin Sotto as Zorro, a unicorn, a dinosaur, and a baby pumpkin, respectively
The whole family were game for Halloween!