Tootsy Angara and husband Senator Sonny Angara have been adjusting their parenting style according to the way their three children are developing their own identities.
The couple has three children: Manolo, 14, Inez, 12, and Javier, 7.
In an exclusive interview with PEP.ph (Philippine Entertainment Portal), Tootsy acknowledged the challenge of dealing with adolescents.
She said, "I used to think parenting was easy until I had a teenager, I think I have to always...
"One thing I have to remember now is that they're their own persons. You can just mold them enough.
"At the end of the day, if you gave them the values growing up, you have to let them free... "
She added, "Parang arrow iyan, di ba? You pull them from the arrow and then they have to go off on their own.
"But you just have to trust that they make the right decisions, and that you raise them well to make the right decisions."
PEP.ph caught up with Tootsy at the #PassionForward campaign launch of Stores Specialists Inc. in Grand Hyatt Hotel, Bonifacio Global City, last November 6.
The occasion was one of the highlights of the luxury retailer's 30th anniversary celebration.
Tootsy graced the event with her husband, Senator Angara (photo below).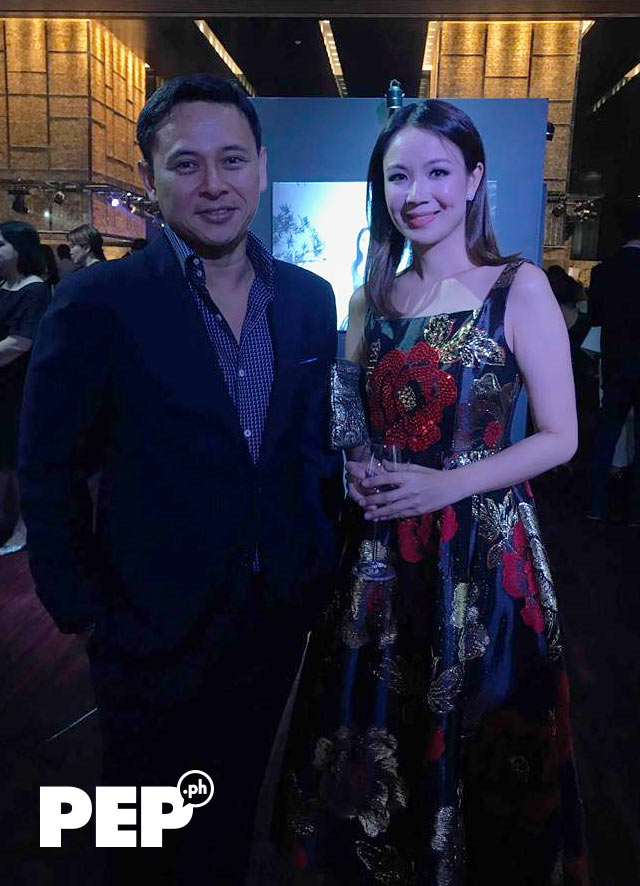 STARTING THEM YOUNG
Tootsy shared one of her constant reminders to her daughter, Inez: To be brave and to pursue whatever she wants to be as she grows up.
"With my girl, I always emphasize being strong and being brave and really embracing who she is.
"Kasi sa akin, girls have to be reminded that they can be whoever they want to be.
"I reinforce it more with the girls to embrace your beauty, embrace being a woman.
"And she'll look at me like, 'Huh?'"
To her two sons, on the other hand, the 42-year-old ABS-CBN executive tells them "to be a gentleman," with emphasis on "being kind and gentle to girls."
She said, "I always tell them na, 'You know, the world has changed, but at the end of the day, the charm of being a gentleman will never grow old."
Tootsy said she has instilled one important value in her children, one they should live by the rest of their lives.
"Ang pinaka-important is to be kind kasi what is grit and hard work if, at the end of the day, it's not for a good cause.
"So it should really be, at the end of the day, I told my kids, 'Kindness is your biggest weapon, you can never go wrong.'"
EVERY MOMENT COUNTS
The passing of her mom, journalist Baboo Mondoñedo, in 2015 reminded her how short life is.
According to her, it has made her firm in her resolve to spend as much quality time with her family—especially now that her kids are getting older.
She told PEP.ph, "I love my mom and she passed away and I miss her so much.
"My kids, our bonding is, to be honest, just like any other family.
"We also have challenges, but I chose to remember or cherish the moments that we have together.
"Kaso you'll never know 'di ba? I always tell my kids, live each day as if it's your last.
"Sometimes, we watch TV while having dinner, sa iba bawal yun, but sa amin, basta magkasama kami, happy na kami.
"Kasi we're gonna make do with what we have, and this is the life we chose to live, so might as well appreciate it and be grateful for it."