First month of the new year, that time of the year when we start re-assessing our goals and set new ones—may it be for career, travels, investments, among many others.
Managing my finances was one of my biggest goals last year, and I'm quite proud to have achieved it.
I was able to kick start my savings and saved more money than I expected.
To be totally honest, I have tried several money-saving tips and challenges but nothing worked for me.
By the start of 2018, I tried the 52-week Money Challenge, eventually got bored with it, and gave up entirely in June.
And then I got inspired to try the Invisible PHP50-peso challenge.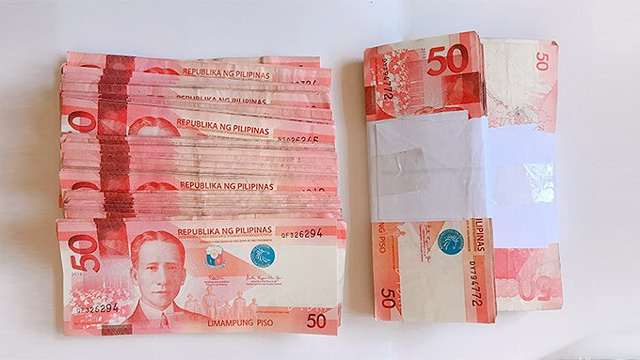 HOW I DID IT
This money-saving challenge went viral in May 2017, when Facebook user Yona Abella shared she was able to save PHP42,000 in just five months.
The basic concept of the challenge is to save every PHP50 peso bill you receive.
One of its advantages is that if you keep at it, you are accumulating savings without even being aware of it.
I took the challenge and started with a goal to save 100 pieces of PHP50 bills or PHP5,000 on my first month.
The first few days was fairly easy since I was just getting a piece or two. In a week I was able to save 10 pieces or PHP500.
Around this time I encountered my first problem for this challenge: I was not saving as much as I expected.
With my weekly average of 10 pieces of PHP50 bills, I would save PHP2,000, which was way below my target.
There were also days when I wouldn't have any PHP50 bills to save, but that was okay.
The second problem was that there were days I had no other bills in my wallet except PHP50 bills.
I was forced to withdraw more money from my salary account—ATMs only dispense PHP100, PHP500, and PHP1,000 bills—just to pay for my PHP40 snack or my commute back home.
The third problem was that sometimes stores or PUVs did not have any change for bigger bills, which made it a lot more challenging.
Still, a few weeks in the challenge, I managed not to spend PHP50 bills and just keep them.
In the end, I was able to reach my target of 100 pieces of PHP50 bills in a month without noticing it.
I started in August and in four months, I saved PHP20,000.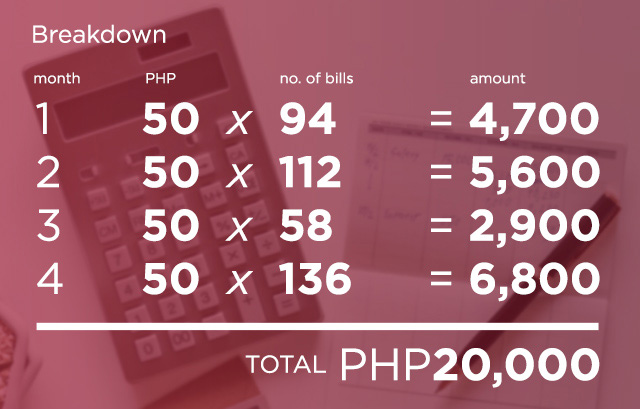 OUR SUGGESTIONS
The Invisible PHP50-peso challenge is not as easy as it seems especially if you depend mostly on PHP50 bills to pay for your daily spending.
But here are some suggestions.
Have a concrete goal and stick to your plan to achieve it. My goal was to save 100 pieces of PHP50 bills and this inspired me to keep the challenge going.
Set a daily budget to help you organize your spending. This will eventually make it easier to save PHP50 bills.
Manage your expectations. I initially felt discouraged during the first few days since I felt I was not saving as much as I should. Understand, however, that this type of money-saving challenge does not really guarantee huge savings instantly. Not every one saves the same amount of PHP50 bills when trying out this challenge. The important thing is setting aside some money for saving.
Open a separate savings account for this. I usually deposit the money on my bank account every time I gathered 100 pieces of PHP50 bills. It is a lot more secure to keep them in your bank account than have it stored in your house.
You can also try doing this challenge for other bills instead of PHP50. I also tried to save 100 pieces of PHP20 bills, which I used to give my godchildren for Christmas.