Fatima Rabago, five months pregnant with her second child, captured our attention early this week when she flaunted her tiny baby bump on Instagram.
The wife of Brapanese model Hideo Muraoka made netizens go, "Nasan ang hustisya?!"
Yes, Fatima is indeed expecting and happily so.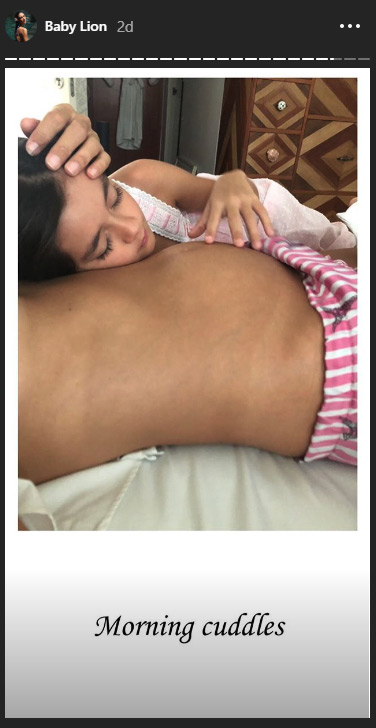 READ: Believe it or not, this model-entrepreneur is five months pregnant
Her baby bump is now trending, and the Spanish model-entrepreneur found all the comments funny.
She did not expect it would garner such reactions.
READ: Netizens awed, shookt by Fatima Rabago's baby bump
"In Spain, generally if you are the skinny type, the bump normally comes out around 5 to 6 months, so this is pretty normal for me," Fatima told PEP.ph (Philippine Entertainment Portal) via direct message on Instagram.
"I actually gained more weight than expected this first 5 months, according to my OB, but I don't care much about it."
This is Fatima's second pregnancy.
Their eldest, daughter Danda, is eight years old.
When she was pregnant with Danda, Fatima also had a tiny baby bump.
She said, "It didn't show up till this same stage. But once it started to show up, it grew so fast!!"
Four months after giving birth to their daughter, the couple made Manila their new home base.
PREGNANCY BLISS
Fatima loves being pregnant. And her favorite part about it? Well, the baby bump.
She remarked, "It is amazing to see what my body does.
The feel of a tiny human inside is wonderful. I'm loving every part of it, even the not-so-good.
"It is beautiful seeing a perfectly rounded pregnant bump. I can't wait for mine to grow.
"When the 'actual bump' finally came out in my first pregnancy, I loved showing my bump all the time.
"I will do the same as soon as I start showing," she said.
Yesterday, January 22, the bump did start to show.
HEALTHY LIFESTYLE
Despite her toned physique, and with a baby growing inside her, Fatima would not call herself a "fitness buff."
The Spanish model revealed she has "always been active ever since a kid."
"I try to do as much exercise as I can, but it is hard to juggle work, family, and self-care sometimes," she admitted.
"I used to do a lot of yoga and train at the time, but my main [exercise] is yoga at Urban Ashram Yoga.
"I discover yoga with them. It is my favorite activity."
Fatima and Hideo often do yoga together.
She remarked, "I wish i was more committed to working out actually.
"But I try to have balance always."
And, believe it or not, Fatima does not follow any diet.
"I've never been on a diet even since my first pregnancy.
"I was raised as a kid eating healthy by my parents, but not for being skinny o sexy.
"We do it for health and we raise our kid the same way.
"I always eat organic vegetables, have eggs straight from the chickens...
"It is very important for us to know what we put inside our bodies.
"It is the same as putting the wrong oil in your car.
"We don't want to put the wrong food inside our body.
"I never had access to [soft drinks] or junk food till my teenage years.
"And I thank my parents so much for that.
"But, of course, we do cheat many times!
"I personally eat lots of chocolates and sweets.
"Being aware, our goal is to grow old with energy, with health.
"And to prevent sickness that is all around nowadays."
In the end, Fatima said our fitness goals should not be about becoming "skinny or sexy."
For her, the goal should be "to live a healthy life you want for your kids."
She said, "Because they are watching. And they really do what they see.
"Don't push yourself. The first step is to know your body.
"You can't compare your body to others. All types of bodies are fine!
"Sometimes takes longer, sometimes takes no effort [to be fit], but is your journey."