Edward Barber has a different perspective when it comes to Valentine's Day.
When asked about his ideal Valentine's date, the 18-year-old actor replied, "Sobrang cheesy itong sagot na ito, but I believe in it.
"Valentine's Day is not a day where you should treat someone special.
"Unang-una, if you treat a girl and you go all-out on Valentine's and then after that you don't put too much effort, patay ka diyan. Dead in the water."
Instead, the former Pinoy Big Brother housemate said a girl should feel special every day.
He continued, "You should always treat her well, and maybe it's okay to do a little bit all out.
"But don't bring the standard so high that the day after, February 15th, the girl is still thinking if you still love her.
"Be constant. It's not a sprint, it's a marathon.
"I feel like a lot of guys use Valentine's as an excuse, 'I got you a gift on Valentine's day, do you love me?'
"Hindi naman dapat ganun. Treat the girl special every day, treat her like she's a queen every day.
"But also, have that separate from your relationship to family, your relationship with God, your goals, and your friends.
"For me, those are the five main things that I have."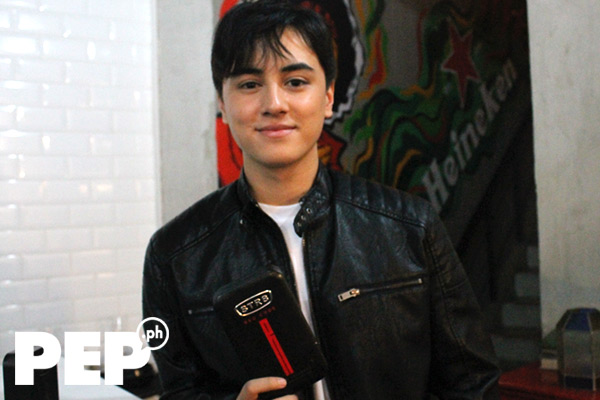 IDEA OF LOVE
Edward admitted that he may be too young to give proper love advice, but at 18, he seemed to have a clear idea what love is all about.
He said, "From my experience, from my knowledge, if it's really you two meant to be together, di ba, best foot forward?
"Usually, slowly, she gets to know the real you. There's bad side, there's good side, may mga flaws, may mga perks na ayaw niya.
"If she's willing to stay with you, regardless of your flaws, I guess that could be love, that could be a reason to stay together.
"Kasi I believe a lot about love is sacrifice. Again, I'm 18, I don't know that much.
"But from what I have seen from my parents, what I have seen from my sister... from other people, if you sacrifice for someone, you love them."
He reminded, "Effort, constant effort… It's the small thing.
"She doesn't care if you got something big for your birthday.
"She doesn't care if you got her something big for Valentine's day.
"She cares if you text her 'good morning,' she cares if you say 'good night.'
"She cares if you remember her favorite perfume or favorite lipstick.
"She cares if you think of something that she doesn't even know she needs before she needs it.
"It's some of those things.
"Especially when you're a teen, you think you have to buy a lot of things.
"You have to buy flowers to have a great date.
"Constant lang, yung every day. Small effort over a long period of time."