Saab Magalona, brimming with love for her one-year-old son Pancho, relishes every moment attending to him—even if he can be a handful at times.
Her recent Instagram post about taking Pancho to a wedding captured that reality of motherhood.
Not that she was complaining.
Saab took the episode with good humor, and her post had the intent of spreading good vibes.
Her caption read, "Shout out to all parents who took their baby to a wedding and prayed sooo hard that they wouldn't make noise.
"It was also because of the Lord's work that I did not fall off my seat while reaching for something in the baby bag."
Some of her followers cheered for the celebrity mom, but a few took notice of the contrasting body languages of Saab and her husband Jim Baccaro at the pew.
Jim looked so relaxed, while Saab was caught with a handful in her arms.
One remarked, "And that man beside you doesn't care"
Another said, "And there's Jim sitting pretty."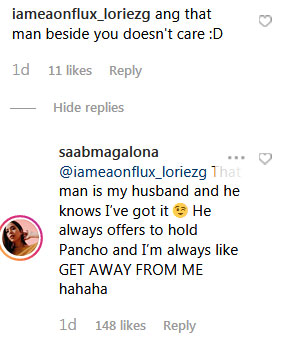 Sounding cool, Saab defended Jim.
"That man is my husband and he knows I've got it. He always offers to hold Pancho and I'm always like GET AWAY FROM ME hahaha"
"To be fair, @jimbacarro is an AMAZING night nurse. He lets me sleep even if he has to go to the office early!"
Meanwhile, a netizen left a sensible reminder: "Most of the people now a days judge a person with just one photo not knowing the whole story."
Saab has been taking her mommy duties in stride since she gave birth to Pancho in February 2018.
She was supposed to deliver twins, albeit prematurely, but she lost Luna and Pancho barely survived his birth.
She has since picked up the pieces, but she would always look back to that period in her life as a "dark time" for her and husband Jim.