Nadine Samonte's pregnancies had not been easy.
In both journeys, she was diagnosed with Antiphospholipid Antibody Syndrome (APAS), an autoimmune disorder that may lead to complications such as preeclampsia, thrombosis, autoimmune thrombocytopenia, fetal growth restriction, and fetal loss.
She further described her condition in one of her Instagram posts, "It's about my immune system na it's super strong that anything comes inside my body like viruses or anything, my body is killing it, kaya hirap ako mabuntis. Hindi po ako na-miscarriage kasi nga papasok pa lang siya, my body is killing it na. My category is 1, 2 and 5."
When she got pregnant with her eldest daughter, Healther Sloane, in 2016, she revealed to PEP.ph (Philippine Entertainment Portal) that she was taking 53 tablets and having twice-a-day Heparin injections and once-a-week Proluton injection.
With her second baby Titus, she was taking 30 tablets a day, and having once-a-day Innohep injection once a day and Proluton injection every three days.
But her babies all worth all the hardships.
"If you are gonna ask me , i will do it all over again," she said in her Instagram post dated May 23, 2019.
And to get reminded on how she triumphed over her two difficult pregnancies, she used syringes as props for her babies' portraits.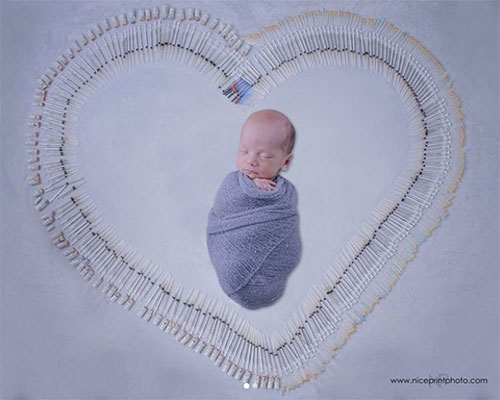 In the same post, she wrote, "These are the injections that I had when im pregnant with both of them. I kept everything from my first born to my 2nd and after this pictorial I'm gonna frame it para paglaki nila makita nila at itutusok ko sa kanila pag makulit na sila hahaha just joking…
"But every needle is worth it para mabuhay sila. Look at God's blessings to us. I will forever be grateful. Thank you for my beautiful children and Lord wag nyo po papabayaan ang pamilya namin. Mahal na mahal ko sila (my husband, my daughter and my son) @rboy_chua . Swipe to see Heathers injections it is more than Titus because that time ang gamit ko is Heparin.
"Ang sarap dahil natapos din ako haaaaay/ 'There is always a rainbow after the rain,' and yes they are our rainbow babies. #apaspcos #rainbowbabies.captured by @niceprintphoto@charissetinionp@theconceptroomstudio"