Pregnancy is a heavy load to carry, literally for all women.
And, figuratively, it is a weight of responsibility that will continue to hang on them all throughout their parenting lives.
Meanwhile, there's this other kind of burden that weighs on them before and after their pregnancy.
They worry about their looks, the drastic changes in their moods, and loss of confidence in themselves.
Actress Andi Eigenmann, who's on the 35th week of her pregnancy, shares her pregnancy woes that many women can relate to.
On June 27, 2019, in her Instagram post, Andi frets about her considerable weight gain that she and her doctor weren't expecting.
She is now seven pounds heavier than what is considered normal in the third trimester of pregnancy. According to americanpregnancy.org, the acceptable weight gain should be one to two pounds.
Andi writes on her post, "On my 33rd week check- up my dr. was so proud of me for only gaining 2lbs.— but yesterday, week 35, (and of all check-ups, it had to be the one where @chepoxz accompanied me), I found out I had gained a whopping 9LBS ladies and gentz."
Besides gaining above-average weight, Andi worries about blemishes breaking out on her skin.
"I also not only gained LBS, but blemishes as well."
But Andi also mentions she eventually got rid of the blemishes with the help of Skin Need PH.
WHAT FRIENDS AND FANS TOLD ANDI
Andi's followers have been quick with their responses, giving Andi compliments and sharing some tips for the soon-to-be mother of two.
Her sister Max Eigenman (@slinkymax) said, "Baby the 9 lbs is not from your eating but mostly water and my niece being ready to pop out. I love you happy bday you are doing great @andieigengirl"
@glen_ayesha_shoaib wrote, "The 9lb gained could be the weight of the baby....wish you and the baby all the best. Congratulations to your boyfriend. God speed."
@wahlen.annie370 shared a tip on losing weight: "Banana and water it's good to reduce your weight have safe delivery gwapings ba? sana."
Others expressed their love and support.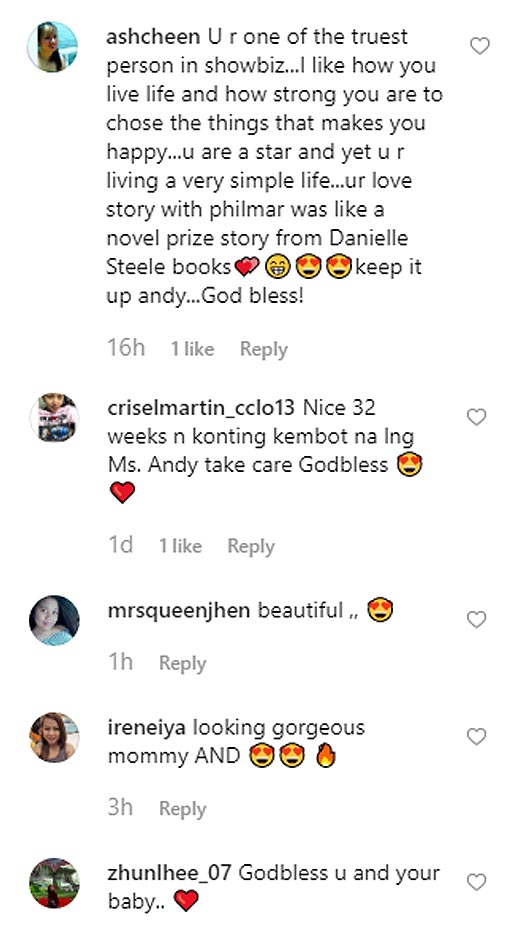 WHAT'S THE NORMAL PREGNANCY WEIGHT GAIN?
In an article published by smartparenting.com.ph, obstetrician-gynecologist Dr. Geraldine Mendoza, says the ideal total weight gain differs and is based on a woman's Body Mass Index (BMI) prior to conception.
"Your Body Mass Index will tell you if you're underweight, normal, overweight, or obese," the site explained.

If your BMI is normal (18.5-24.9) before pregnancy, the recommended weight gain is 25 to 35 pounds.
Overweight or obese (25 to 29) is within 15 to 25 pounds, while underweight (below 18.5) should gain 28 to 40 pounds.
A woman in a normal pre-pregnancy weight should, therefore, gain 1 to 4.5 pounds per week during the first trimester and 1 to 2 pounds per week during the second and third trimesters.
According to Dr. Mendoza, following the recommended range of weight gain "will decrease the [likelihood of] adverse outcomes."
The "adverse outcomes" include severe backaches, increased fatigue, varicose veins, and difficulty in regaining pre-pregnancy weight.
Dr. Mendoza adds, "If your weight gain is not so much, then you are at risk for having small gestational age infants."
PRACTICE HEALTHY LIFESTYLE
The ideal weight for your body is achievable with the help of a well-balanced diet and ample exercise.
Eat food high in calcium, folic acid, iron, and protein found in dairy products, meat, poultry, sardines, salmon, green leafy vegetables, fruits, and dried beans.
Limit intake of caffeine and white tuna, and avoid alcohol, seafood with high levels of mercury (swordfish, shark, king mackerel, marlin, orange roughy, and tilefish), unpasteurized food (hot dog, packed salads, and unpasteurized meat spreads or pates), and raw meat.
Exercise, exercise, exercise.
Clevelandclinic.org recommends swimming, low-impact aerobics, walking or yoga because it "can improve your posture, and help with backaches and fatigue."
The site also suggests, "Check with your physician first, to be certain it is O.K. for you to exercise."