Marriage is rewarding and challenging at the same time.
It usually starts with kisses in the morning and sweet whispers of "I love you" at bedtime, but once you get past the honeymoon stage, things start to get dull and difficult.
Finances, children, work, school, and extracurricular activities can take a toll on your relationship.
But instead of taking the time to discuss it with your spouse, a lot of couples would rather turn off the lights, go to sleep, and not deal with it.
All these, according to Family Life experts, are normal in any relationship.
But if you don't want your marriage to fall apart, then it's time to give it a makeover.
At the Smart Parenting Conference held in SM Megamall last June 29, 2019, ABS-CBN News Channel anchor Edric Mendoza and his wife, blogger Joy Tan-Chi Mendoza, talked about the three steps that can help save marriage.
STEP 1: FACE-TO-FACE
Face-to-Face is about making good, in-depth conversations with your spouse.
One of the best ways to do this is by scheduling regular date nights.
In an exclusive interview with PEP.ph (Philippine Entertainment Portal), Edric explains, "The date night becomes a chance for us to just enjoy each other's company and ask those hard questions like 'Hey, how are you doing?' and 'How can I improve?'
"It becomes an opportunity for us to open the channels, so she can tell me things I need to improve on and I'll tell her the same thing."
Joy also shares that during their date nights, she and Edric make sure to bring an open attitude to the table.
"For example, I ask him, 'How can I improve?' and then he tells me, I'm not supposed to be like defensive and then all of a sudden say, 'No, that's not true!'
"So we committed to really listen to each other."
True enough, being open is one of the core foundations of a good relationship.
It builds trust, avoids conflict, and gives you opporutinities for growth, both as a couple and as individuals.
It is important to practice it not just during your date nights, but also in your everyday life.
Here are additional ways on how you and your spouse can communicate effectively daily, according to relationship guru Dr. Phil McGraw:
Mean what you say and say what you mean.
This applies not just with your words, but also your body language. If your spouse notices you're upset or angry, don't deny it. Be honest and tell them how you feel.
If what you're saying is also extremely important, avoid apologizing for it. It decreases the gravity of the issue and will confuse your spouse.
"Deliver your message. Own it then stay with it," Dr. Phil recommends.
Be a two-way communicator.
Talk, but also listen. By listening and doing it intently, you give your spouse the message that you value his or her thoughts and that they are loved.
Dr. Phil also explains, "By giving as much weight to what is heard as to what is said, you put a spotlight on the issues you, together, need to clarify."

It gives both of you a clear head on what needs to be done and how the two of you can do it well as a team.
Don't disguise your feelings as a question.
"Lalabas ka na naman mamayang gabi?" will not always work when what you're trying to say is you would like your spouse to spend more time with you.
When you disguise your feelings as a question, chances are, he or she won't understand you, and you'll just get an answer that would disappoint you.
This applies especially to women. Remember ladies, men are not mind readers.
Be clear with your words, practice proper tone of voice, and be mindful of how you deliver it.
"When your message is true, the response will be, too," Dr. Phil says.
Step 2: SIDE-TO-SIDE
Find activities that you and your spouse would enjoy doing together on a regular basis.
For Edric and Joy, playing badminton and running outdoors helped in strenghtening their marriage further.
"Pushing ourselves to do a sport together made us communicate better [and] made us get along with one another even though we don't always like each other," Joy says at the Smart Parenting Conference, making the audience burst into laughter.
Whatever it is that you choose to do, make sure that it's fun and rejuvenating.
Check out these recommended activities for couples by Smartparenting.com.ph:
1. Enjoy movie nights at cinemas or in the comfort of your home.
2. Have wine and paint at Sip & Gogh branches within the metro.
3. Commit to a one to two-hour fitness routine at home or in gyms like Fitness First, Gold's Gym, Slimmer's World, and Anytime Fitness.
4. Go mountaineering with hiking agencies like Trail Adventours and Tripinas Travel & Tours.
5. Try ballroom dancing in studios like Society Lounge in Makati.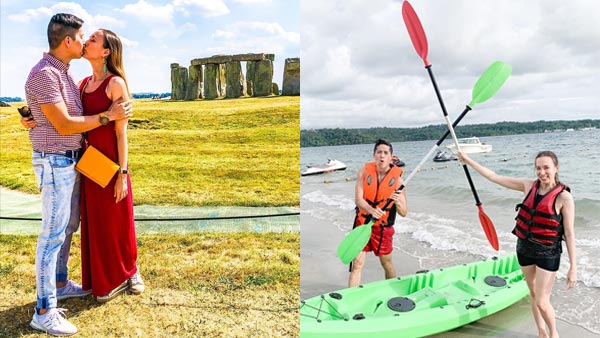 Another way to improve your marriage is to pursue goals side by side with your spouse.
"When your marriage is just about yourselves or providing for your family, your marriage becomes ugly and painful," Joy explains.
Having realized that, she and Edric reflected on the good that they can do as a couple then started ministering to other couples who have been experiencing the same problem as theirs.
"It's comforting because when you share with other couples what's going on in your marriage… it strengthens [your] own marriage.
"You reach out to other people, then it gives your marriage more meaning and more purpose."
Step 3: BELLY-TO-BELLY
"This has to do with the idea of sex," Edric says. "If you want your marriage to continue to thrive and be enjoyed, you need to have good intimacy."
He says that making love to your spouse on a monthly or even yearly basis is no joke.
According to a report by NBC News, "When in a long-term relationship, it is important to reconnect through sex. The brain chemicals released during sex further enhances bonding."
Being intimate doesn't have to be limited to intercouse, either. "Cuddling, oral and manual stimulation, and sharing of fantasies contribute to this bonding."
Edric's advice to couples: "Just do it."
For the husbands, you must also keep romancing your wives no matter what stage of the relationship you're in.
Simple gestures like opening doors for them, telling them they're beautiful, and habitually saying, 'I love you' are major "pogi points."
Getting rid of your own bad habits is a big plus, too.
For the wives, you must keep affirming your husband.
Edric talks about how dads like him can be exhausted from working day in and day out.
And just like any man, he wouldn't know who to talk to "because it's not like for men to look for [someone] to talk to and say, 'Pare dami kong problema eh.'"
In those moments, Joy would look him in the eyes and say, "Honey, thank you for working so hard for our family... I may not fully understand what you do, but I want you to know that I appreciate you.
"Thank you for working hard for our family."
With that, their relationship continues to be blessing not just for themselves, but to others as well.