Kylie Padilla is so enthralled with her son Alas Joaquin that it overflows into her Instagram Stories.
The GMA-7 actress writes she has "never bonded so much with another human being in my life."
And gushingly, she describes motherhood as "truly amazing. And a part of me, that I truly love."
Kylie says she can't bear to be away from her son that when it happens, "mom guilt" strikes.
She writes, "Ever since I became mom, mom guilt has never left me.
"Whether it's when I'm working, whether Alas is spending his playtime in a different room, whether it is just when I'm tired and plan to take a few minutes to myself. I always find myself missing him. Always.
"Or wondering if he is ok and if everything is running smoothly without me."
Even her nights are spent mostly with Alas.
"At night when I have him all to myself, when we read, we sing, we pray together. We even massage each other, that's the best feeling.
"I've never bonded so much with another human being in my life. (Except for the hubby ofcourse)"
Spending this much time with her son, Kylie becomes more aware of how much Alas is growing up.
"I get so excited to get to see who this little human, the little human I have spent so much of my time with, will become.
"It's such an exciting mystery. One thing I keep learning is that you will never stop learning about people.
"Not even my own son who is ever growing and ever changing everyday.
"Everyday he is a new person and I'm the luckiest most blessed person to have become his mother."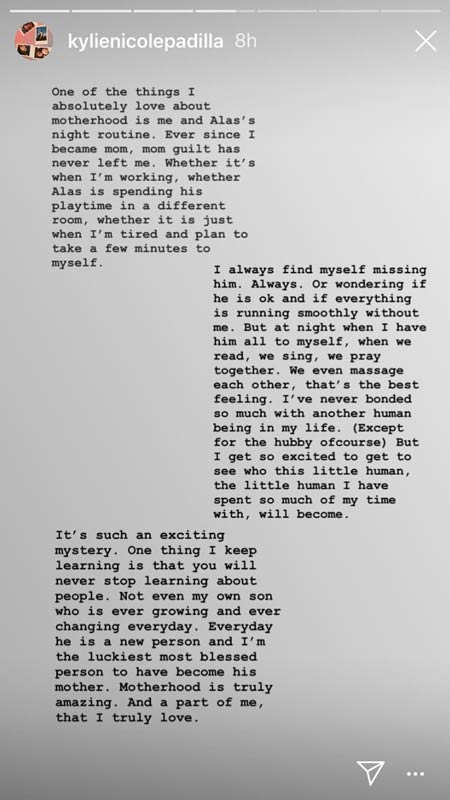 KYLIE FINDS STRENGTH IN MOTHERHOOD
Kylie, however, underlines that the journey of being a young mom has not been smooth sailing.
The 26-year-old mom writes in her second Instagram story, "Since I became mom. Since I first laid eyes on this precious little one, the whole world changed for me.
"Doesn't mean everyday is easy. It is so hard to be a whole person and give yourself to another when you don't feel 100% ok.
"But in the end I've learned, that all your kid wants is for you to be happy, ok and smiling. Because they too feel the energy you give off to them.
"It is a moment to moment thing... and it is knowing that every moment counts. It is knowing even if you've made mistakes you are allowed to try again and do your best.
"Being a young mom is honestly a little but isolating. There is a great deal of pressure but through it all you find strength where you didn't know you had it.
"Sometimes you force yourself to find it. Because a little kid is counting on you to.
"And through it all you become a better person. A braver person. You are introduced to who you truly were all along."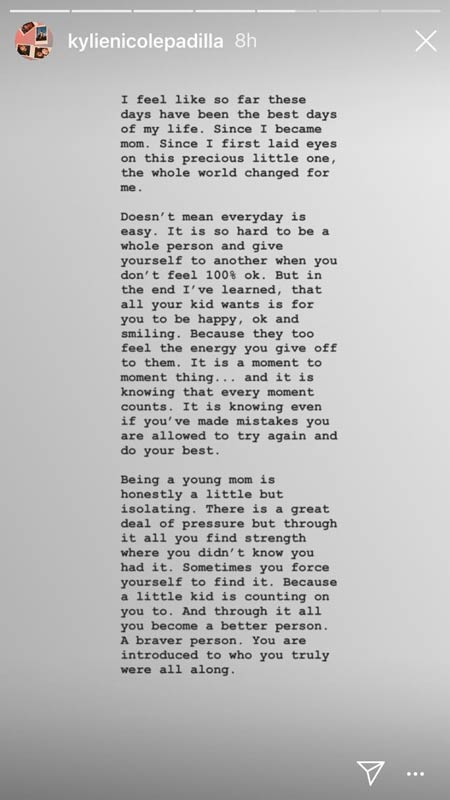 Kylie gave birth to Alas on August 5, 2017.
Alas is her son with ABS-CBN actor Aljur Abrenica.
Kylie and Aljur got married a year after Alas was born.
The couple is reportedly expecting a second child.