Jerika Ejercito introduces her fourth son Moises on Instagram.
Jerika's newborn son with Spanish husband Miquel Aguilar was born on a rainy afternoon on July 13.
"As somber as the weather so is this little angel of ours," the celebrity mom wrote on her Instagram post dated July 16.
She continued, "He slept through the night as if it was not his first night in this wild, wild world.
"Moises, you have brought so much light into our lives amid this melancholic season..
"For this we are eternally grateful to you, our little Sunshine."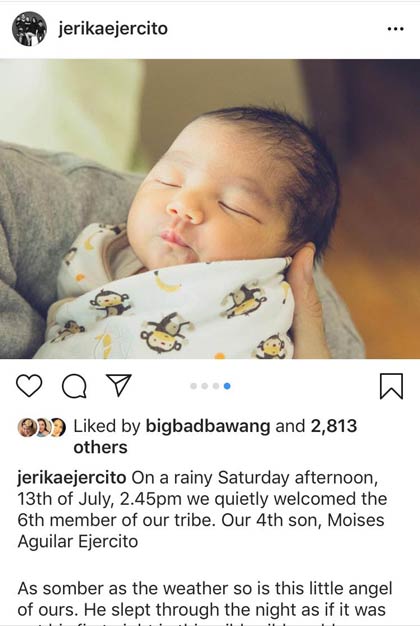 Jerika, the daughter of former Manila Mayor Joseph "Erap" Estrada and former actress Laarni Enriquez, is now a mom to four boys.
She and husband Miquel welcomed their first pair of sons, twins Daniel and Michael, on January 18, 2018.
Her eldest son is Isaiah, Jerika's child by former boyfriend Bernand Palanca.
Weeks before giving birth to her fourth son, Jerika dubbed herself as a "KING MAKER."
She captioned, "I always wanted to be surrounded by good looking men, so I decided to have and raise them myself."