"Hay, the life of having a toddler and a newborn."
This was part of the caption Camille Prats wrote in her latest Instagram post dated July 16.
Camille talked about the change in her night schedule, which now involves taking care of her newborn son Nolan and comforting her one-year-old daughter Nala.
"Since @nolan_cristiano was born, ate @nalacamilla sleeps with daddy in our room and I sleep in the nursery with Nolan, but I make sure I put Nala to sleep first before heading out," the GMA-7 host-actress began in her post.
The first few nights have been an adjustment period, not just for Camille and her husband VJ Yambao, but also for their daughter Nala.
Nala had been used to sleeping beside Camille, but with a new baby around, the little girl now sleeps with her dad.
Camille continued in her post, "The first few nights, she would wake up in the middle of the night looking for me but would go back to sleep after dad comforts her, last night she cried for a good 5 mins looking for me, so I would run to and from our room and the nursery to put Nala to sleep and to feed Nolan... obviously she's not ready to not have me beside her at night. So hubby and I have to regroup and change our sleeping arrangements.
"Hay, the life of having a toddler and a newborn. #momlife"
Some moms on Instagram could relate to Camille's current situation.
One mom suggested a hack, "Sleep in one room na lang para easier.. I sleep between my toddler and my now 4 mos baby.. i tap ate to sleep while nursing the baby.. #multitaking"
Camille revealsed this was the solution she came up with that night.
One netizen said, "Haay ano pa kaya ang single mom ano.. kaloka. San ilalagay ang sarili. Lol."
And the Kapuso celebrity mom agreed, "haaay korek"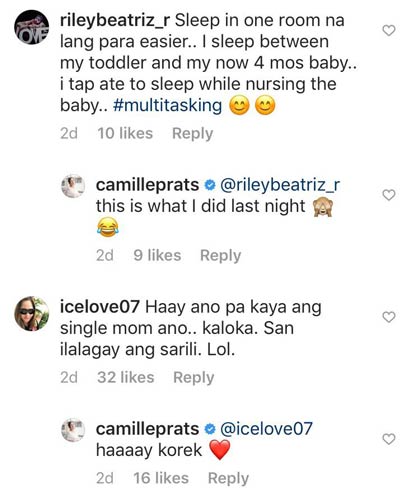 NALA MEETS NOLAN FOR THE FIRST TIME
Baby Nolan was born on July 10, 2019.
Three days after, Camille posted a video of Nala meeting Nolan.
Nala held Nolan in her small arms.
Camille asked Nala, "Is this your baby?"
Quietly, Nala said, "Yes."
Camille asked next, "What's the name of your baby?"
Nala said, not letting go of her brother, "Nolan."
Nolan is Camille's third child.
Her first child is Nathan (leftmost), her son with late husband Anthony Linsangan.
Camille and husband VJ have four kids all in all.
She is also a stepmom to VJ's son Ice (not in photo).