"A lot changed," Dani Barretto tells her YouTube fans in a 30-minute sit-down vlog dated July 17.
The daughter of Marjorie Barretto and Kier Legaspi is 33 weeks pregnant.
Dani continues, "It's very rare for me to actually open up when it comes to personal things like these."
But becoming a mom, she says, has "enlightened" her, "Like I've never felt this proud to be a woman.
"I've always appreciated that privilege, but to be able to carry a child and to have to go through nine months of different hormonal changes and mood swings and body changes and mental state, emotional state—all those changes in life.
"The fact that us women are able to achieve that, to do that, and to be able to deliver a baby to this world, I just feel like it's such an amazing and beautiful thing."
She also hopes to reach out to other pregnant women "most especially those who are also going through the same process as me."
The lifestyle vlogger and social media influencer then details in her vlog the physical changes she went through during the first three months of her pregnancy.
"Everything got wider and bigger. Not that it's a bad thing, honestly.
"It's just that I think if you're like a first-time mom, masha-shock ka talaga right away how fast your body changes or how fast your body reacts to things.
"Like yung pang-amoy ko, right away siya nagbago."
Dani and her husband Xavi Panlilio got married in April 2019.
DANI'S PIMPLES, STRETCHMARKS APPEAR
One of the things Dani talks about at length is her now acne-prone skin.
"Wala naman akong bad acne, thank God, but my skin is more acne-prone nowadays.
"Before I got pregnant, my skin was—it was really cooperative. I rarely get pimples and when I do, I don't get scars. I rarely get scars and when I do, ang bilis niya mawala.
"But when I got pregnant, like grabe, as in parang every week ako may bagong pimple."
She then points to her pimply chin, "And mostly in this area. Di ba sinasabi nila kapag may pimples ka dito, it's hormones? So, I'm guess it's because of that?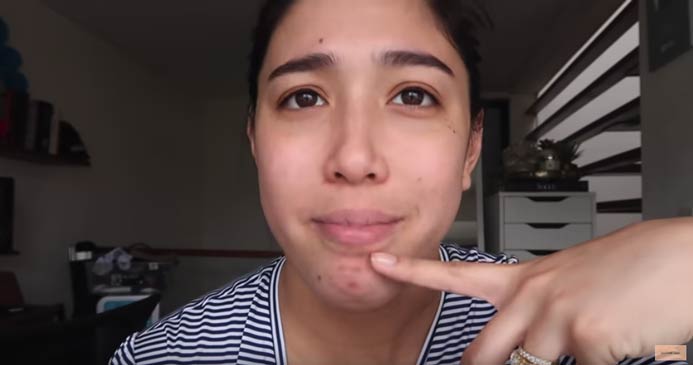 "I don't know what else is there… but my pimple areas, when I got pregnant, is always here and on my nose. Di ko maintindihan kung bakit diyan sa area na yun, pero diyan lang.
"So okay, pimple, ganyan. But the thing is, nagkaka-pimple ako pero grabe yung scars nag-i-stay siya.
"Ever since I got pregnant, hirap na hirap ako to remove the scar kasi very limited din yung products na puwede mo gamitin sa face mo. Hindi rin ako makagamit ng peeling stuff.
"Hindi ko alam kung paano siya tatanggalin. I'm trying to do natural ingredients and natural creams, but so far, it's still there.
"So as of the moment, tinatakpan ko muna siya ng concealer.
Dani is also candid about her thoughts on stretchmarks.
"I have this love-hate relationship with stretchmarks. To be hoenst, I hoped and I prayed so many times na hindi ako magkaroon ng stretchmarks. Dinasal ko talaga iyan..."
While her baby bump is clear of stretchmarks, Dani reveals her breasts are not spared.
"It was the first thing that grew. Kasi medyo ang tagal bago lumaki tiyan ko, and to be honest right now hindi pa siya ganun kalaki...
"Yung boobs ko talaga problema ko. As in nagkaroon ako ng stretchmarks and nahihirapan ako tanggalin siya.
"And hindi pa rin siya natatanggal, so I guess maku-cure lang talaga ito when I give birth. After I give birth, then maybe I can fully do something about it."
DANI'S FIRST TRIMESTER
Dani relates she was "puking so much" and "having intense migraines every day" during her first month.
"The puking was like more than five times a day. It was really bad. I actually thought I had a very maselan pregnancy at that time.
"Kasi siyempre, first month ko pa lang yun. I don't know how it feels to be pregnant. It's my first time.
"Hindi ko alam pa yung state ng pregnancy ko nung time na yun, but that was just the first month."
But she began to feel better when she approached her fifth week.
Dani continues, "On the second month, nawala siya. Totally. As in hindi na ako nagsusuka, and I rarely get migraines already.
"When I do get dizzy, it's only because of my medicine. Siguro kasi ang dami kong iniinom na gamot.
"I drink prenatal, I have calcium, I have iron and vitamins. Pero feeling ko yun yung effect niya kasi every time iniinom ko siya, nahihilo ako. Pero di naman na to the point na nasusuka ako."
By the time she got to her third month, Dani says she felt her energy was boosted.
"Dun ko na na-feel na ang lakas-lakas ko... Talagang sinisipag magtrabaho and dun na ako nag-travel mostly. As in, I traveled so much.
"Parang lumakas loob ko mag-travel. Hindi ko alam bakit. As in third month yata ng pregnancy ko, lumipad ako ng London.
"Grabe, as in hindi ko talaga alam what got over me. Parang ako, dinaanan ng hangin 'tapos bigla ang lakas ko na lang all of the sudden.
"I started to get up already kasi for first two months, I was very, very weak.
"For the first month, I was very weak, and I thought I wasn't going to be able to do anything. Kasi nga parang kung ganito na ang feeling ko, baka ganito na feeling ko until the rest of my pregnancy.
"But thank God nawala siya."
DANI SEEKS DOCTOR'S ADVICE
However, Dani reminds that it's "not really that safe for pregnant women to travel all the time."
She underlines, "It actually depends on the state of your pregnancy. If you are very maselan, then I suggest don't risk it.
"Huwag ka masyado mag-travel. Huwag ka masyado gumawa ng strenuous activites...
"You always have to consult your doctor first before doing anything kasi nakakatakot naman to experiment. Hindi mo alam yung katawan mo, e.
"We don't really know what goes on with our bodies. We just have to listen to our bodies all the time.
"If sa sarili natin na mag-isa, kailangan natin pakinggan yung katawan natin. Mas kailangan natin pakinggan yung katawan natin kapag meron tayong dinadalang bata kasi yun yung mas priority."
Since Dani considers herself a "sigurista," the soon-to-be first-time mom sees her doctor every two weeks.
"I'm not really a fan of the doctors, but ever since I got pregnant, I always want to go to the doctor because I always want to know what's up.
"I always want to know what's going on. I always want to know if my baby is okay, if I'm okay.
"Or if I'm okay to do this, I'm okay to do that. I'm okay to eat this, I'm okay to eat that.
"I don't really know how it is for everyone. But to be honest, if you're going to do something that you know can potentially be not safe for you and your baby, then you go consult your doctor.
"That's the best advice I can give you because that's what I do.
"Every time I travel, I consult my doctor first. I get checked first and I get cleared first before I travel. If I'm not clear, I don't travel."
DANI'S HEALTH SCARE
Recently, Dani did get sick because her cold developed into a cough, which triggered her asthma.
"Minute that I was sick, I went to the doctor right away, and we did an ultrasound.
"It turns out kinulang ako sa fluid, bumaba yung amniotic fluic count ko and it's not really safe for the baby kapag bumaba yung amniotic fluid count. So, I had to do something about it.
"I had to drink more fluids than the usual and I had to cure my asthma because my sipon already triggered my asthma.
"I had to see my pulmonologist. To all the mamas-to-be that have asthma, you have to go see your pulmonologist and get maintenance medicines.
"It's very important to do that because lumalala kasi lahat kapag nabubuntis ka.
"Everything changes when you get pregnant. I hope you all know that.
"And I'm sure it's a common knowledge for us women na when we get pregnant, everything changes inside, us and I think one hit that happened to me is my immune system.
"Not that it went down because okay naman ako. I don't get fevers naman. I don't get sick. Yun nga lang, my colds just stayed, never left.
"Parang ako kasi, my asthma was okay. I could maintain it before I got pregnant.
"But when I got pregnant, I'm always out of breath. Lagi akong hinihingal.
"Umakyat lang ako ng stairs, bumaba lang ako ng stairs, maglakad lang ako nang konti, hinihingal na ako..."
Thankfully, Dani's asthma has eased up after taking her prescribed medicine and her baby's growth is on track.
Here, Dani reasons that it is important for pregnant moms to see the doctor when sick because it is difficult to self-medicate.
She continues, "Hindi kayo puwede mag self-medicate. Don't ever do that kasi maraming restrictions when you're pregnant.
"You cannot really drink just kung anu-anong gamot lang kasi very harmful siya sa bata and it can cause premature birth if you self-medicate.
"You always have to ask your doctor if you feel anything. If you're sick, if you're coughing, if you can't breathe, you always go straight to your doctor.
"Your doctor can properly prescribe you with the perfect medicine that is not harmful for your baby and that can cure whatever you're feeling.
"That's the best advice I can give you."
DANI'S NEW MOTIVATION
For Dani, another bright side of her pregnancy is how motivated she has become.
The future mom relates, "Hindi naman talaga maselan yung pregnancy ko. To be honest, I never felt this strong my entire life. All throughout my pregnancy, dun ko pa na-feel na sobrang lakas ko.
"I got really very gutsy when I got pregnant. Yung parang I always wanna move, I always wanna work.
"Maybe because nandun din yung motivation na kailangan ko mag-ipon because I have a baby on the way.
"Nandun din siguro yung motivation na I cannot slack off, I cannot just sit around and do nothing because I have a baby on the way. Siguro nandun na din yun. Kasama na din siya."
Dani realizes she has achieved and done a lot more things now even though she is carrying a child.
The pregnancy has also made her more humble as a person.
She continues, "When I got pregnant, I got to travel more for work and for leisure as well. Parang ang dami ko pa nagawa nung naging buntis ako, to be honest.
"Naging lucky charm pa yung pregnancy ko sa akin kasi I guess iba't-iba tayo ng personality and yung personality ko kasi I always need a push to be able to do things.
"It's not really a good trait, to be honest. Dapat human nature na yun sa iyo na parang lagi kang inspired, lagi kang focused.
"Ako kasi, parang sometimes it takes a lot for me to actually get focused on something.
"Before, laging kailangan may prize and end goal sa huli bago talaga ako ma-inspire to do something. That's such a bad habit of mine.
"Nabago ko lang siya recently, most especially when I started living alone kasi dun ko talaga na-feel na kailangan ko magtrabaho.
"Kailangan ko buhayin ang sarili ko. Kailangan ko pa sipagan yung trabaho ko na I cannot sit around and do nothing kasi kailangan ko palamunin ang sarili ko.
"Ang dami ko kailangan bayaran. And bumukod na ako, so kailangan ko panindigan yun.
"That was the first inspiration to actually working harder than the usual, and for me maturing as well.
"Kasi nagma-mature ka talaga kapag marami kang responsibilities. Kahit hindi mo gusto, it comes naturally.
"Alam ko sa sarili ko na I have to do something. Kailangan ko magtrabaho. Kailangan ko tumayo. Hindi ako puwede umasa sa ibang tao.
"Kailangan mo panindigan yung mga desisyon na ginagawa mo sa buhay. Hindi dapat inaasa sa ibang tao kasi puwede, di ba?
"And I was not raised that way. I was not raised na umasa ako sa ibang tao.
"I always like doing things on my own. I'm very independent in a way na lahat ng bagay gagawan ko ng paraan bago ako humingi ng tulong.
"It's not really a bad trait, but you also have to know when to actually ask for help. Or kapag kailangan mo talaga ng tulong, dapat hindi ka rin matakot humingi ng tulong.
"Ako kasi sakit ko iyan, e. Ang sakit ko is always hangga't kaya ko pa, go lang. Hangga't kaya ko pa, hindi ako hihingi ng tulong.
"So, medyo ako nagkaroon ng conflict sa maraming tao over the years.
"But habang tumatanda ako, natututo naman ako na hindi maging ganun ka-stubborn and ka-ma-pride. So, natututo na ako humingi ng tulong kapag hindi ko na talaga kaya."