Divine Lee has a new realization about motherhood: it is time to be smarter about money.
Pregnant with her second child, Divine was planning to take a vacation before her due date.
But the lifestyle blogger had a change of heart.
"Naisip ko - should save money for Baz and his sister," Divine wrote on her Instagram stories.
"Baz won't even remember if I bring him anywhere now.
"Parang mas important yung college fund niya and saving for his future."
The future mother of two admitted that if she and her husband Blake Go plan a vacation at present, it is more for them than it is for their son.
"Grabe maka iba ng priorities ang anak," Divine quips.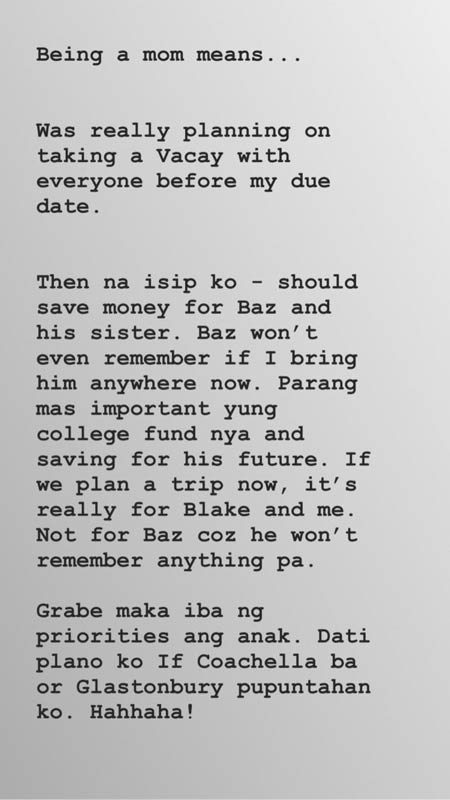 Divine and her husband Blake have agreed to "cut down on vacations and focus on our house and saving for the kids."
Hence, their goal is to "super work first and save."
When they do decide to travel, their kids will already appreciate it, and learn new things from the experience.
Aware of this shift in their priorities, Divine said she and Blake are now more conscious about their responsibilities.
Looking back at how they were, Divine described herself and Blake as perfect personifications of the colloquial term "YOLO" or "You Only Live Once," which pertains to an adventurous and spontaneous approach to life.
"Pls don't forget that we both married late and sinagad talaga namin yung single life," Divine wrote on Instagram stories.
"Now all we talk about is how to make sure na we are doing 110pct [percent] for the best of our kids."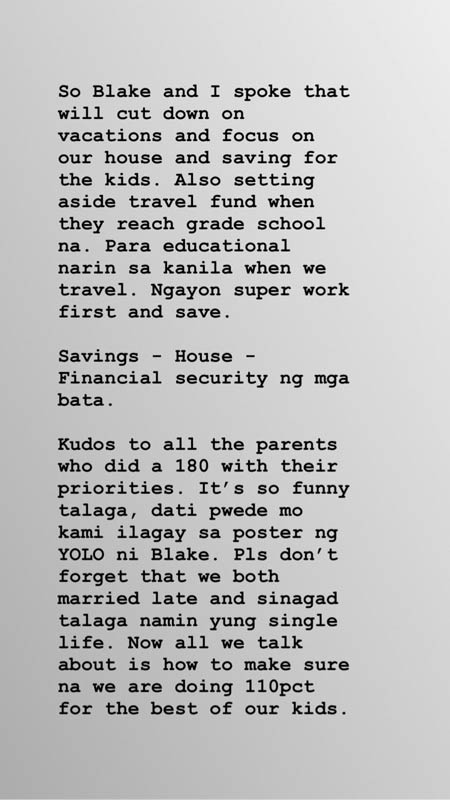 After sharing these thoughts on Instagram, Divine received a number of reactions from parents on the photo-sharing app, and sent an encouraging message in response.
The celebrity entreprenuer put out, "I'm your virtual cheerleader!
"Sometimes when people ask nga how much is enough to safeguard your kids future...
"Ang sagot ko is as much as we possibly can... we want to provide them with the best chance at life."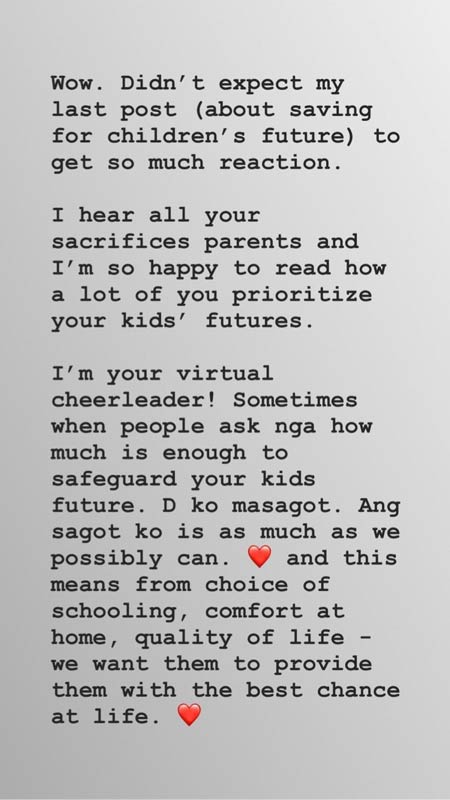 Divine, 37, is on her seventh month of pregnancy.
She and Blake are expecting a baby girl.
The host-vlogger wants to have four kids by the time she hits 40.