What's the first thing a mom does the minute she wakes up after giving birth? Look for her baby, of course.
In the case of Jade Lopez, she was wheeled out of her room, "catheter and all," so she could see her bundle of joy, Rinoa Sapphire Siccion.
In celebration of the Women's Day, she posted a photo of her "a few hours post-op."
She had not fully recovered, but she wanted to see her little girl, who was then confined at the Neonatal Intensive Care Unit of UERM Memorial Hospital.
The StarStruck graduate looked resolute.
The Kapuso actress gave birth on February 26, 2020.

In her first Instagram post as a mother, she put out a photo of her "KMC moment" with Rinoa, who was then two days old.
KMC stands for Kangaroo mother care, which is defined by World Health Organization's website as "a method of care for preterm infants...being carried, usually by the mother, with skin-to-skin contact."
Jade's caption read: "She's finally home after 7 days at the NICU. Today's the first time her dad got to hold her. Picture was taken during our KMC moment at the NICU when she was two days old."
Here's the first solo shot of Rinoa posted by Mommy Jade on her Instagram story.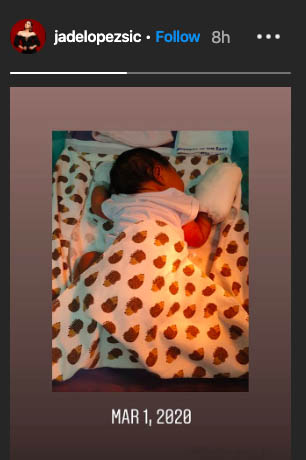 Jade and husband Rocky Siccion tied the knot on October 22, 2018, at the Manila Cathedral.