Handsome couple Anne Curtis and Erwan Heussaff are the stuff of covers and ads on many platforms—television, magazines, digital sites.
But this time, it seems the couple is working on the other side of the camera, as they make their daughter, Baby Dahlia Amélie, the subject of photo shoots.

They are also, of course, the little girl's personal photographer and glam team.
On Sunday, April 12, the couple greeted their Instagram followers a Happy Easter with an upload of cute shots of Baby Dahlia Amélie from their most-recent photoshoot.
Anne wrote: "Happy Easter from our little bunny and blessing [bunny and chick emoji]. :
"This means that anyone who belongs to Christ has become a new person.
"The old life is gone; a new life has begun. 2 Corinthians 5:17
"Creative Director/Stylist: Mummy Photographer: Papa @erwan"
For his part, Erwan announces that he loves being his daughter's personal photographer.
His caption read: "Embracing my new role as a full time dad/florist/baby photographer."
Another handsome couple, Solenn Heussaff and Nico Bolzico, left comments on Anne and Erwan's posts on Instagram. Solenn and Erwan are, as everyone knows, siblings.

On Anne's post, Nico wrote that his own daughter, Baby Thylane, is excited to meet her cousin already.
Nico: "Happy Easter Dalila! We hope to meet you soon... Specially Thylane, she is anxious to meet you!"
Solenn, Anne's sister in law, announced their love for their niece: "We love you Dahlia! Happy Easter!"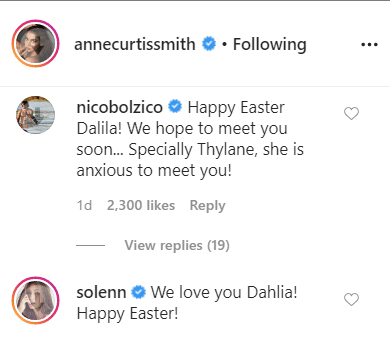 And on Erwan's post, Solenn asked her brother to take photos of her Baby Thylane when he gets back to the Philippines.
Solenn wrote, "Please take photos of Thylane when you move back here lol. Nico is useless."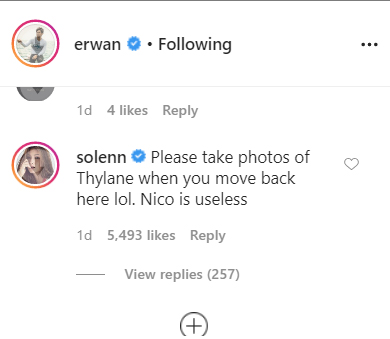 Anne and Erwan welcomed Baby Dahlia Amélie last March 2.
The couple and their baby are currently in Melbourne, Australia.