Isabelle Daza had the biggest scare of her life as a mother in 2019.
She wasn't home when her son Baltie had a fever with his temperature rising to 37.9°C.
Her sister, Ava, who was looking after Baltie, did the family trick to bring down a fever.
She switched off the air conditioner to allow Baltie to "sweat it out." Not a good idea.
By the time Isabelle got home, Baltie's temperature had shot up to 39.6°C.
While Isabelle's husband Adrien Semblat was giving their son medicine, Isabelle noticed Baltie starting to convulse.
The ABS-CBN actress recalled in her Instagram post, "His body stiffened, his eyes were shut, and it almost looked back, they were rolling back. He was biting hard on his teeth.
"He had no control over his movement, and I was freaking out!"
Luckily, Adrien was able to get hold of their pediatrician Dr. Aye Nuguid, who instructed the couple to place Baltie under a shower immediately.
Isabelle did as they were told. Baltie's seizure stopped and he started crying under the shower.
Dr. Nuguid then instructed to wrap Baltie in a wet towel to bring Baltie's temperature further down.
This was a success.
Arriving at Isabelle and Adrien's home, the pediatrician did a thorough check-up to make sure Baltie's lungs were clear.
She advised the couple to keep Baltie hydrated.
That night, Isabelle monitored Baltie's temperature and gave him medicine every four hours as prescribed by the doctor.
Baltie slept soundly and woke up the next day fully recovered.
ISABELLE: WHAT I LEARNED FROM THIS
From the experience, Isabelle learned about "benign febrile convulsion," which was defined by MayoClinic.org as "caused by a spike in body temperature, often from an infection."
In an animated video, the actress told her followers: "Babies less than five years old are prone into going to a seizure because the brain is not mature enough to handle the fever."
She underlined that "it's not harmful and doesn't indicate any serious health problems."
But the mother of one acknowledged that it can be a very frightening experience, so her number-one advice was: "Don't panic."
She continued, "Number two, comfort the convulsing kid and temporize the fever with a wet towel wrap or quick bath.
"Number three, if you haven't given a dose of paracetamol, call your doctor and give it immediately.
"Number four is hydrate the child.
"And number five, the episode is very consuming, so it's okay to let the baby sleep."
On a more personal level, Isabelle taught herself to "stay calm" during such situations and "have the presence of mind to be able to lower the fever."
Once more, Isabelle reminded followers to "always consult your doctor."
Baltie was born in March 2018, two years after Isabelle and Adrien got married in Italy.
IT HAPPENED TO US TOO
Many mothers, celebrities and non-celebrities alike, could relate to Isabelle's moment of panic.
Bea Soriano, one of her closest friends, had the same experience with her son Brae.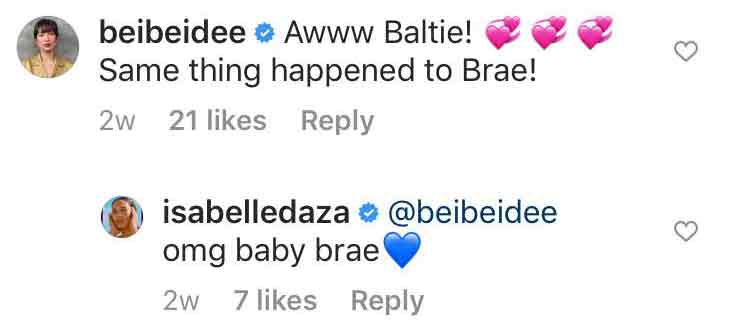 Lifestyle blogger and mother of three Mikaela Martinez went through the same thing last year with her youngest child Max.
Bubbles Paraiso, a celebrity friend to both Isabelle and Mikaela, tagged the latter on the post.
Mikaela said, recalling her own moment of panic: "It was so scary cuz i had never heard about these febrile seizures. We ended up in the ER coz i thought he was dying [two crying emojis] scariest moment of my life!!"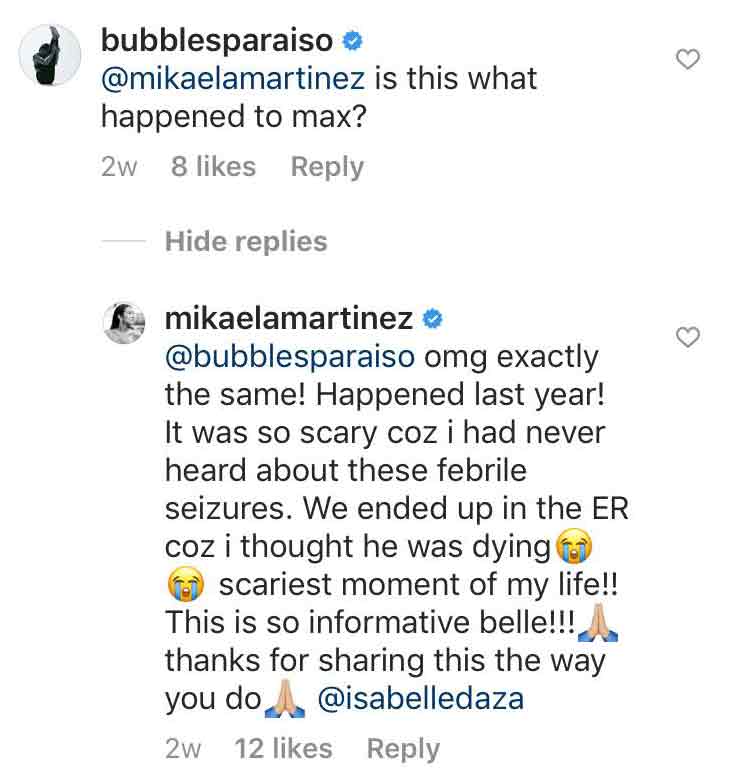 Gusto mo bang lagi kang una sa showbiz news at scoops? Subscribe to our Viber Chatbot here para lagi kang updated, and join our community for more pakulo!