Chynna Ortaleza got the shock of her life after Salem, her son, sustained a bump on his forehead.
Posting photos of her one-year-old baby on Instagram, Chynna's caption read, "Little accidents happen at home with a baby that has too much energy.
"He miscalculated & ran straight into the door jamb. Buti na lang rounded!
"But wow I almost cried because I've been praying that we do not need to bring anyone to the ER."
Her post was dated March 29, 2021, the onset of the Enhanced Community Quarantine (ECQ) in Metro Manila.
With the surge in COVID-19 new cases, the Kapuso actress dreaded rushing to the hospital.
Good thing, she had a home remedy, "Thank God I learned how to use my essential oils. After I put a cold compress.. I applied a bump blend & in 30 minutes he was so much better."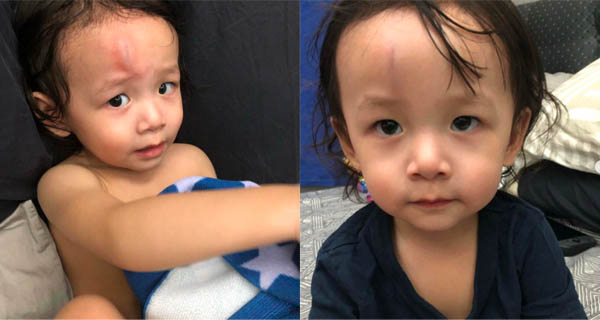 In the comments section, the 38-year-old mom gave the composition of her "bump blend," which made use of Young Living Essential Oils.
She wrote, "2T [teaspoon] VCO [Virgin Coconut Oil], 4 drops PanAway, 8 drops Lavender, 8 drops Frankinsence."
Likewise, Yasmien's husband Rey Soldevilla revealed their home remedy for bukol, "Nangyari dati yan kay Ayesha, the night before her 2nd bday…15 mins cold compress and 15 mins warm compress. Do it alternately. By tomorrow, hupa na. Get well baby!"
More moms shared their quick treatments.
One suggested trying Helichrysum, which is also an essential oil known for its anti-inflammatory and antimicrobial properties.
Betadine and oregano were also mentioned.
What is bukol?
The swelling under the skin is called hematoma, a.k.a. goose egg or bukol in Filipino. It typically goes away after a few days.
WHEN TO GO TO THE HOSPITAL?
If the child begins losing consciousness, or, if in the next few hours or days, the pain or swelling or redness increases, consult a doctor right away.
HOW TO AVOID BUKOL?
The short post was also a reminder to all moms or those who have kids at home to put "safety first" at all times.
And since it's quite impossible to follow every move of your child, it is best to childproof your home.
For starters, do these:
Get buffer pads for the sharp and pointed edges of your door, tables, chairs and cabinets.

Get stoppers, too.
Keep the glass frames and figurines, candles, lighters, and matchsticks, batteries, medicine and vitamins out of reach.
Use sockets covers.
Keep all the small toys away from the baby/toddler and off the floor.
Use these BeautyMnl promo codes when you shop or order online. Marami pang ibang coupons dito.