Nico Bolzico has taken on full-time parenting duties to two-year-old daughter Thylane Katana.
His wife Solenn Heussaff is currently attending fashion shows at Milan Autumn/Winter Fashion Week 2022 with celebrity beauty doctors Vicki Belo and Hayden Kho.
On Thursday, February 24, 2022, Nico took to Instagram to share a photo taken during his bonding session with Thylane.
Nico played pretend restaurant with Thylane, who was a restaurant server, owner, and kitchen assistant rolled into one.
The Argentinian model and businessman wrote a funny and lengthy "review" of Thylane's "restaurant" which he tagged as "New Stories Restaurant&Bar."
Nico wrote (published as is), "Since #Wifezilla is in Italy, I decided to try this new restaurant by myself, and here is my honest review.
"The food took really long, more than 45 minutes even though I was the only there, that can be attributed to the chef being distracted by some cleaning appliances.
"I saw the chef vacuuming many times, despite the fact that I was waiting for the food for already 30 min.
"The order of the food was weird, we started with beef, then coffee and then salad, I also got served fish that I never ordered and it was included in the bill.
"The beef was ok, a bit though, the salad very tasty and the coffee a bit cold. When I asked for dessert menu, I was served a Broccoli, and it was mentioned that is all they had for dessert.
"I Heard they were famous for the baby chinos, but apparently that is only served to the chef. The restaurant was run by its owner, what always give an intimate touch.
"All in all it was a pleasant experience, I will definitely be back, specially because the chef is extremely cute."
In the comments, a lot of netizens expressed their interest in visiting Thylane's "restaurant."
@hey.dindee wrote, "Awww... I would go to Tilly's restaurant any day of the week. [emoji]"
Instagram user @fritzfries97 asked Nico for more details and commented, "Hahaha cutie! Is it sole proprietorship? Or in partnership with mama solenn? [emoji]"
Meanwhile, @gelsie.tacata enjoyed reading Nico's review and wrote, "best review ever [emoji]"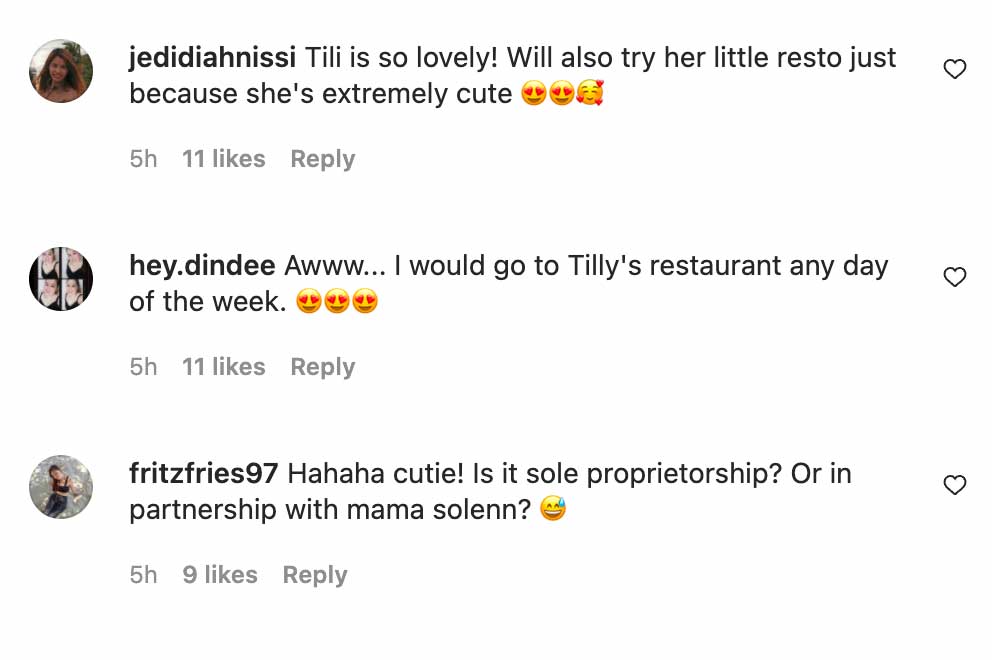 READ MORE: