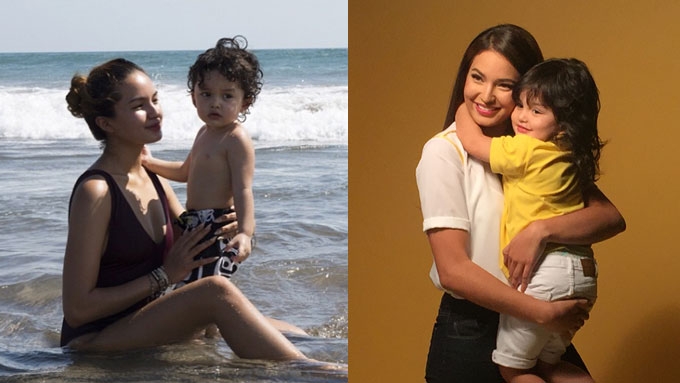 IMAGE @sarahlahbati on Instagram/ Paulo Bautista
---
To Sarah Lahbati, being a mom is intuitive.
There is no foolproof formula but a couple of listening to other moms' #JustSaying and doing her own #CheckMoMuna.
Her recent campaign for Nido 3+, the milk brand she endorses with son Zion Gutierrez, gave you a glimpse of what Sarah is like as a mom.
And an exclusive interview before her pictorial for the brand held last July 22, gave away some valuable insights from the 22-year-old mom.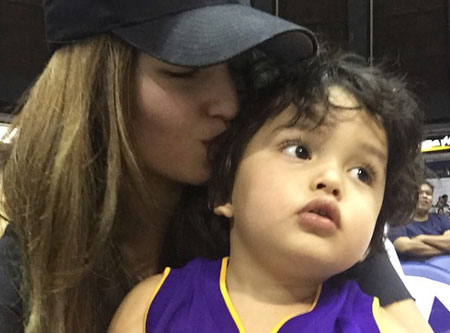 ADVERTISEMENT - CONTINUE READING BELOW
1. She's hands-on.

"Siyempre, I want to know what's he's eating, what time he wakes up, kasi sometimes I have work, and I still make sure that he's eating healthy or he's doing okay at home.
"Or, if not, I bring him to my shoots if it's just near the house."
One of the many things she had to change when she became a mom was how she spends her free time.
"Actually, I'm just away from him when I'm at work.
"I don't go out anymore or even shop!
"Just these simple things make me happy and fulfilled.
"So basically, when I'm at work, he's with the yaya."
2. She's quite a disciplinarian.

She's the type of mother "who wants to stay cool but at the same time balance the way I tell him to do this or not to do other things."
ADVERTISEMENT - CONTINUE READING BELOW
She doesn't believe in being strict, and labeling most things as bawal.
Sarah added, "I try my best to balance how I handle Zion, and I make sure to tell him if he's doing something incorrectly or stuff like that."
But between her and Richard, Sarah is "the disciplinarian," and he is "the cool one, he's more laid-back."
The ASAP mainstay said, "He tries to discipline but parang he's still sweet pa rin, and it's not working."
So, does she spank Zion?
She shook her head, underlining that a parent can handle the "child just by conversation...no matter how stubborn the child is."
She fondly recalled her childhood, back when she was super hyper.
"Although based on my experience, I was such a makulit na child so my parents sort of had to discipline me and spank me a little but not naman in a crazy, physical way."
ADVERTISEMENT - CONTINUE READING BELOW
3. She knows how to tame Zion's tantrums.

She's lucky that her son is not a cry baby, except "when he's sleepy and wants milk."
But how does she manage his meltdowns?
"I tell him, 'Zion, time out.'
"I really like hold him and look him in the eye and, 'Time out, time out, look at mommy, listen to mommy.'
"Sometimes I have to, I wouldn't call it bribe, but I would tell him, 'Okay, if you do that, you won't get your surprises na, you won't get your favorite food anymore' ganyan.
"So sometimes, you really have to use those techniques."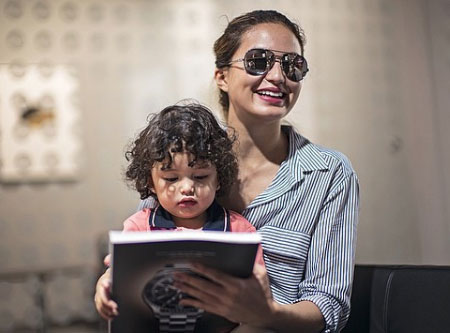 ADVERTISEMENT - CONTINUE READING BELOW
4. She instills "if-you-want-something-you-have-to-work-for-it" habit to Zion.

Having grandparents, uncles, aunts, and having celebrity parents entail a lot of perks.
"Kind of," Sarah said.
"He's such a loved baby by our families, my parents, and Richard's parents so it's kinda hard for Richard and I because we don't wanna spoil him, but everybody else is spoiling him.
"So I guess it's the right balance. They're spoiling him, and we're trying not to do that."
5. She does not restrict her child from doing what he wants.
Zion has his own iPad, which he can use "30 minutes maximum" every day.
"Kasi some children, when they get too attached to it [gadgets], they don't socialize anymore, they don't talk.
"It's important for him to be comfortable with other people and he is, right now.
"He's very friendly, he talks to kids."
When it comes to food, is Zion allowed to eat chips and soft drinks?
ADVERTISEMENT - CONTINUE READING BELOW
"No, we don't drink soft drinks at home."
Sarah admitted to being a health freak, but she does not want to deprive Zion as far as food is concerned.
"I try to make him eat healthy, and make him eat pasta and kiddie meals because I don't wanna restrict him too much.
"Siyempre mas gusto niya like spaghetti or chips, so it's just a matter of balancing the fruits, veggies, then pasta and the chips once in a while kasi they're just babies.
"I'm super OC, like I plan everything out with the food.
"Even at the restaurants I ask them, 'Meron bang ganyan, meron bang MSG, meron bang ganito, ganyan!'
"Sometimes it's kind of embarrassing like Chard is like, 'Wag na, wag mo na tanungin.'
"But I'm that type of person."
His milk, for instance, has to have "the nutrients."
And the parents should go out of their way to "know what you feed your child."
ADVERTISEMENT - CONTINUE READING BELOW
Who would have thought the good bacteria lactobacillus protectus is now present in milk?
She said, "It protects your child, especially children who love going out and are growing."
Lastly, she reminded moms, "Health is every thing."