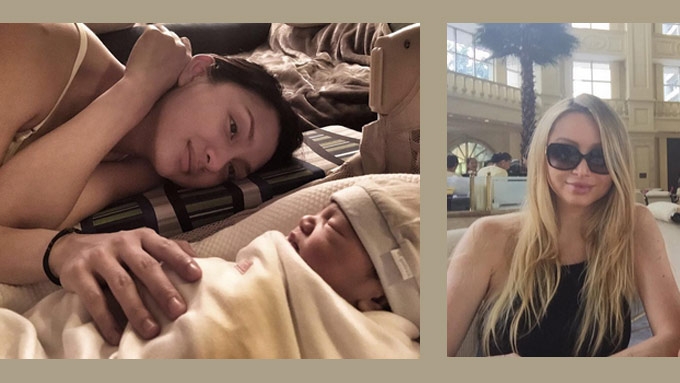 IMAGE @iyavillania @michelacazzola on Instagram
---
Among the fears of most women is giving birth, especially if they are a first timer.
They anticipate the pain of going through labor, which sometimes takes several hours.
But the struggle does not end after delivery.
Some find postpartum even more difficult than going through pregnancy and giving birth.
While the joy brought about by motherhood is incomparable, what being a mother entails can be overwhelming.
Guess what's the top complaint of first-time moms?
Iya Villania, who gave birth on August 30, was quick to discover it.
"Totoo yung chismis, walang masyadong tulog once you give birth.
"But then you discover how selfless you can actually be.
"Sleep isn't as important as attending to him. I love this little boy so much!!! Seems like he enjoyed his first night home!"
Nadine Samonte, who became a mom on August 27, chose to dwell on "sarap ng feeling," especially after going through a high-risk pregnancy.
But she was not exempted from the "no sleep" phase.
Yesterday, August 31, she posted a photo of her daughter on Instagram, and part of her caption was:
"Buong gabi, magkausap kami hehehehe so cute my baby Heather.
"Well, hindi naman ako nakatulog simula nung lumabas siya, hay.
"At hindi siya makatulog kapag wala siya sa dibdib ko."
Michela Cazzola, who gave birth to James Yap's third boy last August 8, posted this one liner on Instagram three days ago: "Team No Sleep."
Isabel Oli-Prats, who gave birth to Baby Lilly Feather on April 18, also had her share of sleepless nights.
In a post, she said, "Changing nappies, nursing and sleepless nights are just a few of the challenges for me but it's all worth it."
She's been grateful to her comfy Lazboy chair and co-sleeper for making things bearable.
Shamcey Supsup-Lee had initial problems about breastfeeding, which also contributed to her lack of sleep.
ADVERTISEMENT - CONTINUE READING BELOW
A few days after she gave birth on January 24, she mentioned in her Instagram post, "I still don't get enough sleep [2 hours straight is heaven], and I still feel pain when I move or twist, but seeing your baby grow healthier every day, sure is worth all of it."