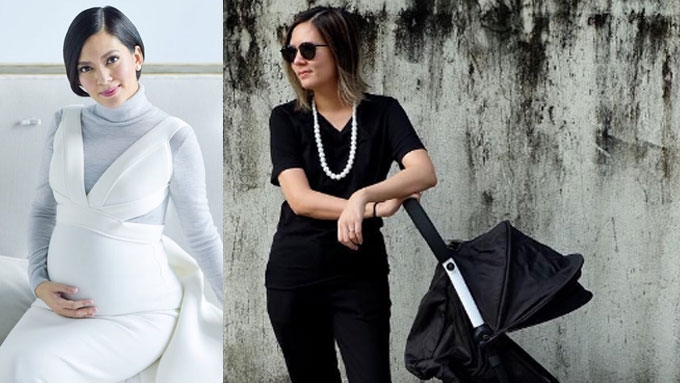 IMAGE @chynsortaleza on Instagram
---
First-time moms like Chynna Ortaleza really need a strong support system.
The wife of Kean Cipriano calls these people her "encouragers," who are usually a call or text message away each time she has a question regarding Baby Stellar.
Usually, her queries are health-related.
At the media launch of her good friend LJ Reyes's new project MApp, the Kapuso actress tells PEP.ph (Philippine Entertainment Portal), "Well, for me, number one is how to secure my baby's health."
In an interview with Marian Rivera's Yan ang Morning, Chynna admitted, "Hindi rin kasi ako marunong makinig sa wisdom ng parents ko at saka iyong mother-in-law nung time na iyon.
"Kasi one month na, ayokong i-convince iyong sarili ko na naglo-lose ng weight si Stellar talaga.
"Ako parang, hindi, dapat exclusively breastfed siya kasi iyon iyong tama, iyon iyong dapat. Gano'n ako.
"[Moms] should really trust their gut when it comes to their child because pretty much, they know what to do with their child."
ADVERTISEMENT - CONTINUE READING BELOW
In the end, she had to ome to terms with what happened without really blaming herself.
2. "They shouldn't panic."
Inhale, exhale. Inhale, exhale.

Chynna adds, "Mother's instincts is something that you should trust and it kicks in."
3. Arm yourself with the things you need.
Chynna relates, "Yung research ko, in the beginning when I found out that I was pregnant, was all about that [securing baby's health]."
"So when I got pregnant, I had to really look for a pediatrician right away.
"And then I had to secure every thing medically.
"It helps that you read, you go to workshops, and you try to like ask a lot of questions to other moms.
"Try as much as you can to think ahead when it comes to things that you're gonna need."
For example, before feeding the baby with solid foods, a mom should have researched about what to do in case she has allergies or gets constipated.
The actress resumes, "Research tools are widely available and that there are your fellow moms who can teach you.
"So like a couple of months ahead and you'd know that they'll start eating, you should read about it.
"Arm yourself with the things that you need, so that budget-wise, and emotionally, every thing, you're prepared for it.
"And yung worries, it will really decrease when you know that everything is there..."
4. Talk.
The Kapuso mom, like most moms, also had to deal with postpartum.
"It is normal for you to feel a little weird after pregnancy.
"Yung postpartum is really something that a lot of moms deal with."
What you have to do is, "They should be open about it, talk to their husband, talk to their family about it, their friends.
"Kasi it's something that I had to go through, and I'm blessed with a lot of people who helped me get through it."
5. Watch your weight.
"It's healthy to keep twenty to thirty-pound weight gain [during your pregnancy], but that's only for a single birth.
"Anything above that goes straight to your body."
In short, do not make pregnancy or motherhood an excuse not to live healthy.