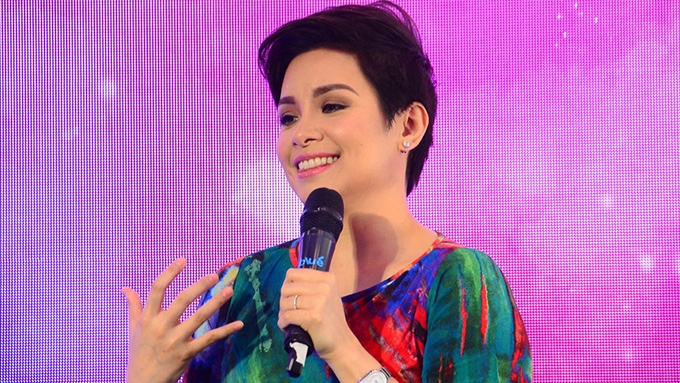 IMAGE Courtesy of Globe
---
Growing up, who among the Disney Princesses was your favorite?
Was it Cinderella or Snow White or Ariel from the Little Mermaid or Belle from Beauty and the Beast?
Once you even probably wished of becoming a princess, until you realized that it will always be a dream.
But Pinoy pride and real-life Disney Princess Lea Salonga has proven that nothing is impossible.
At the launch of Globe Studio's new project titled Disney Princess: I Dare To Dream on Wednesday, February 15, she told PEP.ph (Philippine Entertainment Portal) and other members of the press the requisites to become a princess.
Lea said, "I think, to be a Disney Princess, there has to be a certain sound that they look for. If you listen to all the singing princesses, there's something, there's a quality, a timbre or texture or something that is right for the character that they create.
ADVERTISEMENT - CONTINUE READING BELOW
"There's a something in it, a wonderment, not an innocence necessarily but the excitement to see the world and to experience every thing. There's that.
"I don't think there's a Disney princess that sounds jaded. There are neutrals in that line-up, you know, what I mean."
The 45-year-old performer ultimately pointed out sincerity and passion as major characteristics of a Disney Princess.
"Psychologically, you have to have that sense of wonder and awe and sincerely have that. And two, you have to prepare for each of these auditions and you have let that emotion come out."
Lea was chosen as the singing voice of two iconic Disney Princesses: Mulan and Jasmine.
But the Tony Awardee admitted that Cinderella was her favorite.
She recalled, "As a kid, the one Disney musical that I kept listening to a lot was Cinderella because that was the only cassette that survived.
ADVERTISEMENT - CONTINUE READING BELOW
"That's why I listed to 'A Dream Is A Wish Your Heart Make's over and over and over again, perhaps that does something to the brain and I think it implants something, like some sort of desire that maybe one day that's what I'm gonna be able to do.
"And I didn't really think much of it until I was in New York City and I was doing Miss Saigon, and there was a note from the casting director of Aladdin for me saying, 'We've been looking for you, can you please get in touch?'"
With her success in the industry, many kids also have also dreamed of becoming "the next Lea Salonga."
Members of the press took the chance to ask her fans' million-dollar question: "How to be you po?"
She answered, "That's a tough question to answer because it involves…you have to give up a lot.
ADVERTISEMENT - CONTINUE READING BELOW
"You give up a lot of your weekends, your free time, you have to make a lot of sacrifices if this is what you want to be.
"There's a lot of hard work involved, there's sleep deprivation, there's focus, and you got to give up a lot of recreational time if this is what you want to actually do.
"It's not all fun and games, it's a lot of hard work."
Aside from her incredible talent and determination, luck also played a role on how she achieved her goals.
She told the press, "I was fortunate to be in the industry when I was in it because there were a lot of young people just like me that were going through the same thing.
"So I never felt like nag-iisa lang pala ako dito. There were so many other teenagers that work in the industry along with me, so it was nice that I didn't feel unique or singular in a way.
ADVERTISEMENT - CONTINUE READING BELOW
"Everybody had a singular talent, everybody was gifted, everybody was talented.
"The cool thing was, 'Hey, I'm not alone in this!'
"I would see a lot of people growing up alongside with me and we're doing the same thing. It felt great.
"I think there's also a lot of luck, a luck of good fortune that goes with it because of the circumstances that I happen to be in."