They say, the most crucial years in a child's development are the "first five years."
That's because it's the only period in his/her life where the brain develops more and much faster.
Hence, the things he sees, hears, touches, smells, and tastes stimulate the baby's brain, creating a lot of connections.
This early, Neri Naig has come up with a simple scheme to prevent herself, her husband Chito Miranda, her mom and mother-in-law, and their kasambahay from saying bad words.
She has a small blackboard which lists down the number of bad words each one of them says for the day. The total number will be multiplied by five pesos, the fine.
Every coin goes to the start-up fund for Baby Miggy.
Recently, Neri added an additional rule, which penalizes any noisy member of their household.
The first violator was the vocalist of Parokya ni Edgar.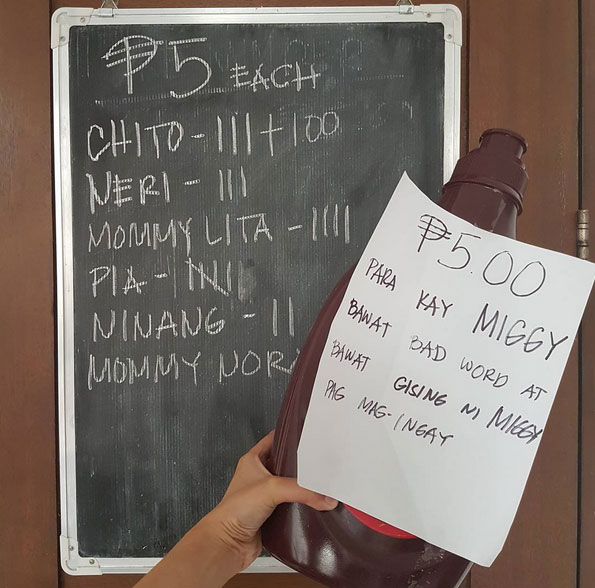 On Instagram, Neri related, "Sa lahat po ng nagtatanong kung ano ba yung P5 na nakasulat sa chalk board. Ayan yung mga penalty namin kapag nagigising o magsalita ng bad word.
"Sa case naman ni Chito, kaya may plus 100, paano naman kase naka-full volume yung telepono niya tapos may tumawag, 'Dwight' ang name. Lahat kami nagulat at nagising.
"Kaya sabi ko, bayaran niya ng P100 yun o kaya singilin niya kay Dwight, hahaha!
"Chito, magbayad ka na! Hahaha!
"PS bayad na po ako. Di ko lang na-erase."