Early on, Yasmien Kurdi has been her daughter not to be maluho when it comes to toys.
The Kapuso star and her hubby Rey Soldevilla Jr. have a four-year-old daughter named Ayesha Zara.
In an online interview with PEP.ph (Philippine Entertainment Portal) last night, July 22, Yasmien revealed that they don't really spend much on the little girl's toys.
The only time Ayesha can ask for a toy is when she performs well in school.
But she just can't choose any toy. Yasmien said, "It must be for her safety and health."
Her daughter also asks the actress if "it's expensive or not..."
Lucky for the young lady, she gets quite a lot from family and friends.
But to control her desire to have more toys, Yasmien said, "We don't open them all at once, making her feel that she gets toys from time to time."
And her daughter understands and does not throw tantrums.
"I guess we are lucky in a way because Ayesha is the type of kid who do not tantrum whenever she doesn't get what she wants."
The only time she cried, as recalled by Yasmien, was when the Elsa dress she wanted didn't fit her.
"She only felt bad, but she understands why we couldn't buy it.
"I promised her to buy it somewhere else ...but it was my sister-in-law who found and got it from Baclaran for her."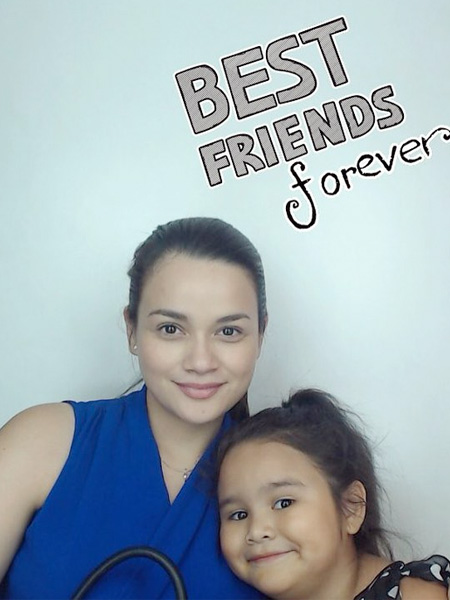 Yasmien also has a tactic so their condo unit won't overflow with Ayesha's toys.
"So meron akong isang malaking box. Kung anong magkakasya do'n, iyon na iyon."
The rest, they either donate or sell.
What was Ayesha's reaction the first time they disposed her toys for charity?
Yasmien said, "It was in a box... she asked why and felt really sad that she even cried.
"We told her, its good to share and give toys to unfortunate kids so that they'll also become happy."
Meanwhile, some of the small toys are given away each time they have a garage sale.
"From time on when we do garage sales, she sometimes even picks which ones to be given away or sold.
"She still hide some toys though."
And those that mean a lot to Ayesha, "... we don't force her until she's ready to let it go."