Giving birth to her baby boy on August 4, 2017, is an amazing experience for Kylie Padilla.
Becoming a mom has been her dream since she was a teenager.
In a previous interview with PEP.ph (Philippine Entertainment Portal), the 24-year-old actress said she wanted to get pregnant "when I was 17 pa lang."
She added, "Gusto ko kasi kasabay ko iyong bata lumaki."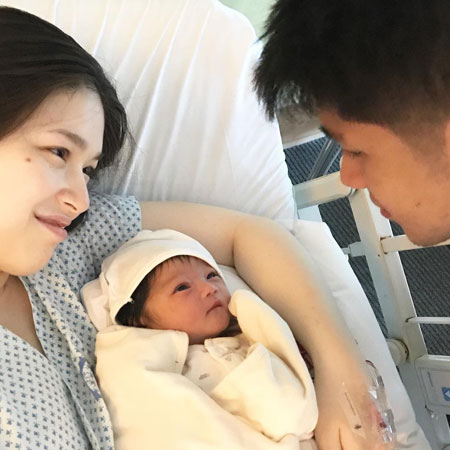 Aside from her partner Aljur Abrenica, Kylie's handler Ghee Canlas was able to witness her journey to motherhood.
In an Instagram post last August 7, the day Baby Alas spent his first night at home, the talent handler described it "the most incredible thing I've ever witnessed and something I will never forget."
Unknown to many, Kylie originally planned "to deliver Alas through water birth and all natural," just like her stepmom Mariel Rodriguez.
According to Americanpregnancy.org, water birth means "at least part of your labor, delivery, or both happen while you're in a birth pool filled with warm water."
But Ghee narrated, "Kylie fought so hard and did her best, but sometimes things are not in our control, Kylie's cervix did not dilate fully when they reached 8 cm.
"On that very moment, there was an undeniable energy taking over the delivery room that I can't describe.
"I've known and seen Kylie as a physically strong person."
The daughter of Robin Padilla is into Wushu, gymnastics, arnis, and Muay Thai.
Ghee continued, "It was the first time I saw her so weak, shaking, in so much pain throughout her four days of laboring.
"Grateful for Irina, her birth doula, she has given Kylie emotional and physical support during and after labour."
Instead of water birth, the Kapuso actress opted to have a normal delivery.
Here's a short clip summarizing Kylie's preparations in the hospital.
Kylie said, "Seeing Alas for the first time was a beautiful moment for everyone in the room.
"It is true, that once the mother has finally seen her child, all the pain goes away, atleast for few precious minutes."
Meanwhile, Aljur posted some snaps of him and his fiancee walking through the hospital corridors a few hours after the latter's delivery.
The now-Kapamilya artist captioned these photos: "Cant put into words how I feel. Going through so many happy emotions at one time... unexplainable.. theres just so much love.... [heart and diamond emoji]."
Congratulations again, Kylie and Aljur!