GMA-7 actress Kylie Padilla was such a trooper!
On Saturday, August 5, the 24-year-old Kapuso talent gave birth to her "little prince" Baby Alas Joaquin, with longtime partner Aljur Abrenica.
Did you know she was in labor for four full days?
Kylie narrated her incredible birthing story in an Instagram post early today, August 12.
She started, "I had to think about posting this one, but since it was already out there, I thought I would share a bit about my birthing story.
"I had decided I was going to have a natural birthing experience with the help of a water bath which in other words is also called a water birth."
Kylie sought the help of Irina Otmakhova, a professional doula or birthing companion.
Her labor lasted for three days before she finally decided to get a medicated childbirth delivery.
The actress recounted, "My doula @irina_doula and I had done months of prep and I had done some on my own too.
"Early labor started slow for me which is normal, mine lasted two days, getting little sleep at night, but I was excited that soon I would finally see my baby boy!
"So I was already running up and down stairs to get him in position. But somehow my body really was taking it's time and baby's head wouldn't come down in my contractions.
"Active labor lasted one and a half days. I walked 6 hours or 2 hours in interval, experimented with different positions to get baby down and widen my cervix, but it had gotten to a point that I had only dilated 1 cm in one day."
Kylie added, "By the fourth day, I was exhausted and feeling a little let down by my body.
"Contractions were unbearable, I would shake and sit in my own mess to get through my contractions, pushing nothing, because my poor baby was still pretty high up in my cervix.
"Still my contractions kept coming. The pain became too much, especially with no rest no sleep.
"I have never felt so out of control of my body, so I had to make a decision.
"No matter how much I wanted a natural water birth l, I had to think about the next best thing. For me and my baby. So I agreed to a medicated vaginal birth."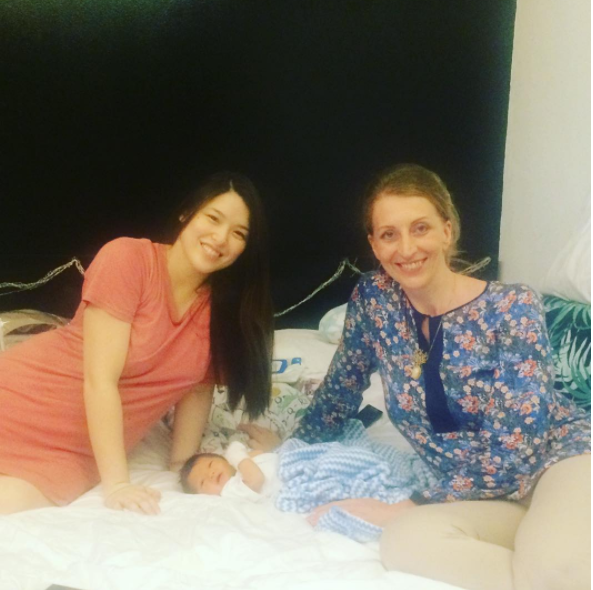 Still, Kylie was grateful to have experienced the process of giving a natural birth.
She gave birth to a baby boy weighing 7.5 pounds and measuring 19.2 inches.
She wrote, "After everything, I'm still happy with my birthing story. My baby is healthy.
"Although it was a medicated birth, I'm thankful I still experienced all the natural hormones I did through those 4 transformative days.
"I learnt more about myself and still got to enjoy a few moments in the tub with my Partner.
"I want to thank everybody who was there for me through those 4 days. It wouldn't have been bearable without you. Thank you."