On November 23, Maria Isabella Padilla was baptized at the National Shrine of St. Michael and the Archangels, also known as Malacañang Church.
Among the baby's godparents were President Rodrigo Duterte, Department of Foreign Affairs Secretary ABS-CBN executive Cory Vidanes, director Joyce Bernal, Piolo Pascual, Nadia Montenegro, among others.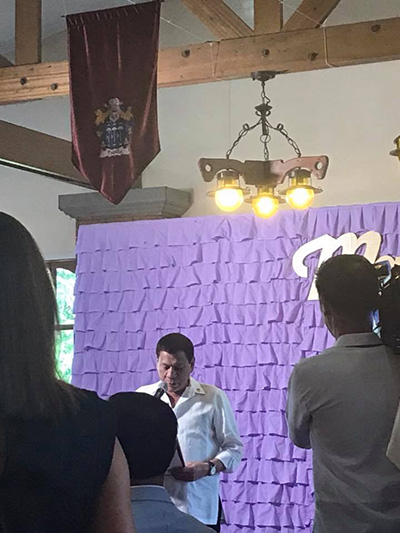 The intimate event elicited questions from the netizens because of the parents' religion—Robin Padilla is a Muslim, while Mariel Padilla is a Catholic.
Some of them asked: "Hindi ba bawal sa Islam?"
According to the website AboutIslam.net, the children can choose their religion when they are wise enough to choose for themselves.
A verse in Qur'an read, "Let whosoever wishes believe, and let whosoever wishes disbelieve.' (18:29)"
However, they "are to be raised as Muslims."
The explanation was: "An Islamic upbringing will not devalue your children's belief in Christ and the second coming of Jesus; rather such an upbringing should serve to strengthen such beliefs, for they are a main part of the Islamic belief system as well."
Mariel's latest post (as of 10 p.m., November 23) on Facebook had a similar stance.
She wrote, "Because mommy is a catholic. Dad respects that.
"Welcome to the Christian world my angel.
"In Islam there is no compulsion. Isabella also had her Aqiqah today."
Aqiqah is an Islamic tradition of the sacrifice of an animal on the occasion of a child's birth.
Mariel continued, "When she grows up, she will be the one to decide what her religion is. That is her right.
"As parents, it is our duty to teach our children to respect all religions. It is our duty to guide them but we can not dictate to them.
"One thing is for sure... I will make sure Isabella knows that there is only one GOD."