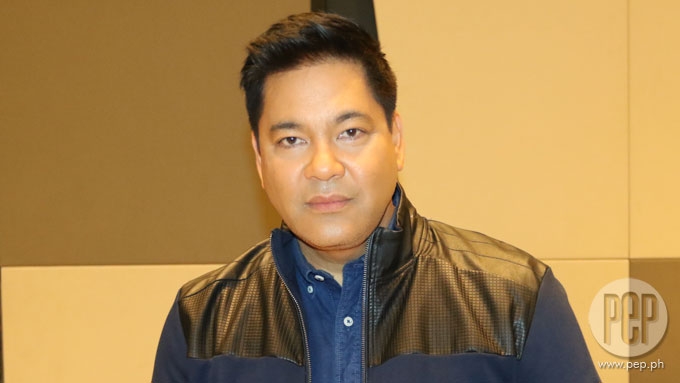 IMAGE Noel Orsal
---
One of Martin Nievera's unforgettable memories during the recent holiday season was witnessing the bonding moments of his son Santino, his estranged wife Pops Fernandez, and their kids Robin and Ram.
Santino is Martin's son with former girlfriend Katrina Ojeda.
Pops even uploaded a photo of her in a tight embrace with Santino, and thanked Martin for bringing the boy to their family gathering.
According to Martin, it wasn't the first time that Pops met Santino.
At the presscon for his upcoming Valentine concert last January 8, he clarified, "Actually, it was Christmas.
"The very first time Pops met Santino was two Christmases ago in Los Angeles.
"I was dropping off Robin and Ram to Pops, and Santino was with me.
"And that's the first time they met and right away, 'Hi, Tita Pops!'
"And they were hugging, even kissing, and they were inseparable.
"And even now, the moment that Santino sees Pops, he runs to her.
ADVERTISEMENT - CONTINUE READING BELOW
"It's very Ogie [Alcasid], Ogie-Regine-Michelle, you know.
"It didn't work out perfectly, but you kinda forget about the past."
Despite Ogie Alcasid's separation from first wife Michelle Van Eimeren and eventual marriage to Regine Velasquez, Ogie and Michelle have managed to sustain their close ties, along with their current partners.
Martin was also thankful that they were all together even during the New Year revelry.
The Concert King narrated, "You'd be surprised to hear that even during New Year, we were together also.
"I checked Pops and her family in at the Solaire, and we had them there, while we had Santino in another room.
"And we all joined together for the countdown.
"It's magic. It was magical.
"One of the most magical New Year celebrations I've ever had!"
Pops's fondness for Santino is a clear testament of her unconditional love, and Martin is grateful.
"She does, and, you know, Pops has the best words. She says that, 'Oh my God Martin, I remember our days, but I only remember the good days.'
ADVERTISEMENT - CONTINUE READING BELOW
"I think that's a good tip for all those who have been through what we've been through.
"Men, if you put your wife and women through the hell that I put Pops through, and then she forgives you, then you know that love is really forever."