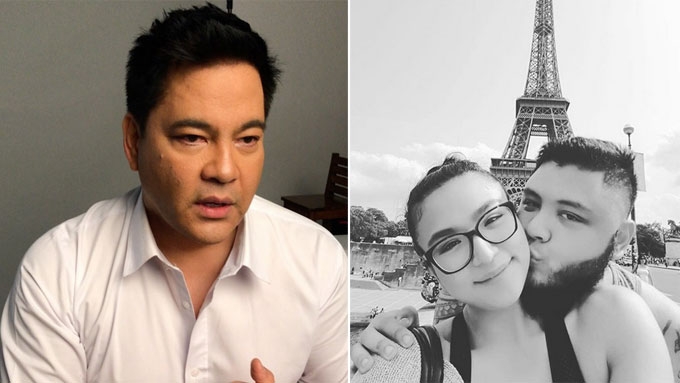 IMAGE @martinnievera @robinnievera on Instagram
---
Martin Nievera thinks he's going to be a father-in-law soon.
Robin, his eldest son with ex-wife Pops Fernandez, is in love with Zia Quizon, daughter of Zsa Zsa Padilla and Dolphy.
From the time Robin and Zia admitted their relationship, they've been inseparable.
Zia has literally become a part of Robin's family, even joining them during their travels abroad.
Martin seems ready in case the two decide to settle down.
He told PEP.ph last January 8, during the presscon for his upcoming Valentine concert with Regine Velasquez, Ogie Alcasid, and Erik Santos, "Looks like it, 'no?
"I can't pull them apart. Wherever they go... I think their hands are mended, glued together, I think.
"Everywhere, they're together, even when we had a little impromptu dinner, they were together again, connected by the fingers."
What if Robin tells him that they want to get married?
Martin quickly blurted, "I'm ready, I'm so ready!
"Or they wanna have a child? I'm so ready. Today, you can't be that old-fashioned father anymore.
"They'll do it anyway. The more you hold them back, they will rebel."
Despite his anticipation, Martin confessed that he still hasn't talked to Robin and Zia about how they can strengthen their relationship.
He said, "No. Nowadays it's either a text or an email or Instagram, biglang malalaman mo na nag-propose na yung anak mo sa girlfriend niya.
"You won't know until you open, turn on your phone.
"But we've not had any reason to have that talk. Not yet."
ADVERTISEMENT - CONTINUE READING BELOW
Any relationship advice for Robin and Zia?
The proud dad proudly offered his sage wisdom, "Take your time.
"It's not the wedding, it's the marriage.
"Whatever you're feeling and going through this inseparable of holding hands, I cannot stop.
"The moment that stops, people say, 'Ahh, because you're married.'
"Make sure you never hear that. That you are...
"You don't open that door anymore, you don't hold hands anymore, you don't even neck, you don't kiss, you don't hug anymore because you're married?
"That doesn't sound right.
"It's because you're married that you have the license to do that 24 hours a day, seven days a week.
"So, I will tell them what you're feeling today, if you can sustain that in your marriage, then you're meant to be."
We also asked Martin if he and Zsa Zsa have been teasing each other about the eventuality of becoming in-laws.
He joked, "Hay naku, can you imagine kung may relationship kami ni Zsa Zsa?
"That would be really weird.
"But I told this to Zia, I told this to Boy Abunda as well.
"I said, you know Zia is the closest you're gonna get to ending up with a woman like Zsa Zsa.
"She's a beautiful woman inside-out.
"She's the best friend to everyone in the industry. She's everyone's best friend.
"Isn't she's the nicest, humblest person?
"She honors your friendship, she remembers your birthday, she goes to your dressing room—she doesn't have to, just to say hello—then she goes back to her dressing room.
ADVERTISEMENT - CONTINUE READING BELOW
"That's a quality woman. Conrad, you're very, very lucky."
Conrad Onglao is Zsa Zsa's current boyfriend.
Martin added, "Hold on to that, but I told Robin the same time.
"This is the closest you're gonna get to the almost-perfect woman that Zsa Zsa is, you will find in Zia."