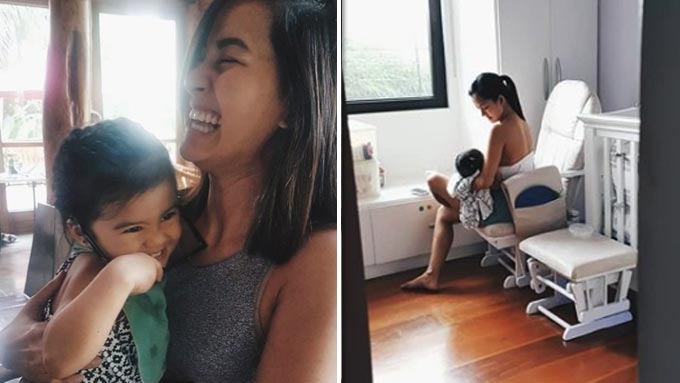 IMAGE iamsuperbianca on Instagram
---
Bianca Gonzalez's breastfeeding journey recently ended, and marked it with two lengthy Instagram posts.
The first recounted how Lucia began to wean.
"A little after Lucia turned 2 years old, she weaned herself from breastfeeding. By that time, she would only feed (direct latch) two times a day: before morning nap and before sleeping at night.
"We had been traveling; and when you travel, nagugulo ang sleeping and eating schedule.
"And my guess is, she figured, 'Kaya ko naman pala matulog nang hindi na nagmi-milk.'
"I was emotional for about a week."
NINE MONTHS TURN TWO YEARS. Then she recalled her struggles as a new mom who was not initially blessed with enough supply of milk.
"There is an insane pressure on mothers nowadays, partly because of social media, to breastfeed.
"Til now I don't know whether I myself was pressured, or it was really something I wanted to do; it could be both."
Just like any mom, Bianca wanted the best for her child, thus, she did her best to give Lucia nothing but breast milk.
"My original goal was to breastfeed my daughter exclusively for 9 months. It was so difficult. Low milk supply was my number one issue.
"Then there is lack of sleep, sore nipples, going to work and pumping, wasted milk, the list goes on.
"And the struggle is real."
There were times when she wanted to give up.
She continued, "But every time I would think of giving up, for some reason, her milk demands would be less (as in less times in a day or less ounces), so I would figure, 'Sige, kaya pa naman.'
"Until I reached 2 years.
"With the help and support of my husband JC Intal, our dearest midwife @adlemioderbos, our ates before, Ate Didi, Ate Vilma, to our family's long time kasama Nanay Virgie, it became possible."
ADVERTISEMENT - CONTINUE READING BELOW
She considered it as one of her "life's biggest accomplishments."
Bianca added, "OA, pero totoo."
"UNSPOKEN PRESSURE." But she clarified that her posts did not in any way belittle moms who mix feed or give formula milk to their baby.
The 34-year-old mom wrote, "I am happy and proud to have breastfed my daughter for 2 years, til she weaned herself.
"But I also would never judge a mother who chose to or who chooses to mix feed or give formula at some point.
"Yes, breast milk is best, but I strongly believe that whatever is best for baby's health and whatever is best for mommy's health and well-being (and sanity, to be honest) is what is best.
"Every baby is different, and every mother is different.
"Who doesn't want the best for their baby di ba? Lahat naman tayo we want the best.
"Motherhood is difficult enough, and we definitely could use all the support and guidance we can get from other moms."
So what does little Lucia drink now?
Bianca continued, "...She drinks fresh cow's milk, chocolate milk, strawberry milk, yogurt drinks, pati Yakult, and flavored almond milk.
"I asked our pedia kung kailangan ba niya mag-formula, and he says there's no need to since she drinks different milk kinds anyway, her weight is good, she eats three meals a day, and takes vitamins."
Bianca ended, "As long as baby is healthy and happy, then I'm more than okay."
---
Stories We Are Tracking
---