Famous parents do not always go for anything flashy and costly, they make practical choices, too.
Iya Villannia, a mother to her son Primo, gave her fellow moms a winning tip when buying clothes for their growing kids.
In her Instagram post yesterday, February 27, IG user @jemarcosses asked this question about Iya's tot Primo: "Why he is always wearing the same clothes?"
Iya replied, "As long as those clothes are washed and clean, I don't see what the problem would be.
"This is a funny concern. Kids grow out their clothes fast so I like to keep it basic.
"If you want to buy him clothes then by all means go ahead."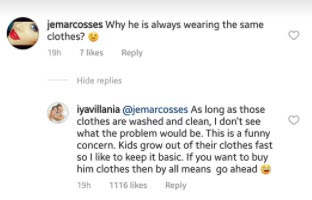 Iya's followers, who are mostly moms, echoed her point.
Instagram user @ems_marie08 said, "Those who've never been a mom will never understand. I've let my kid be in those types of clothes kc it's presko... madali mairita mga babies pag wala sa Air-conditioned room #JustSaying #RealityBites"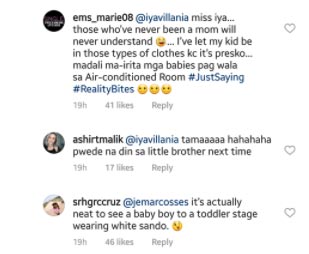 Instagram user @marymisyel, on the other hand, applauded Iya's smart parenting, "I'd do the same if I was a parent. Teaching your kid the value of simplicity w/c is rare nowadays, everybody wants to show off on social media. Hands down to you as a mother."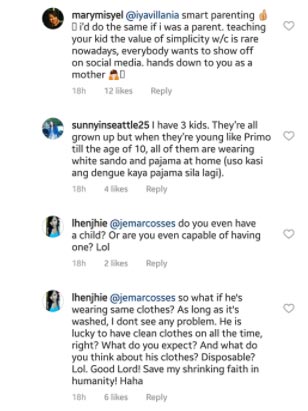 Instagram users @grasing24 seconded, "True me din I don't buy more clothes to my baby sayang kase naiwanan lang din hehe..."
This was similar to what Instagram user @ambrocio.tricia, who commented, "Actually, mas maganda nga white kasi kita agad dumi. Ako kada laki nila 1 dozen palagi white sando binibili ko."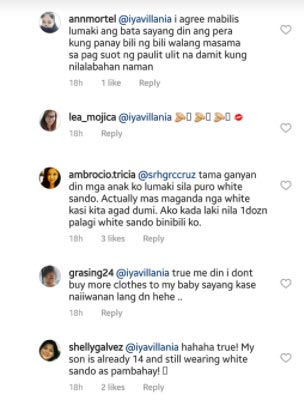 Checking out Iya's previous posts about Primo, he has not been exactly wearing the same clothes.
Look, he's wearing a similar sando here but in the shade of gray:
Regardless of what he wears, his son always looks neat and so adorable.