Last March 6, it took Saab Magalona a lot of courage to finally reveal on her blog that she and husband Jim Bacarro had lost one of their twins, their baby girl, on February 8.
She announced it on the same day of her father Francis Magalona's 9th death anniversary.
The couple's baby boy, on the other hand, had to remain in the neonatal intensive care unit (NICU) to recover from surgery after birth.
The new parents are hopeful that they'll be able to bring him home by the end of the month, Saab shared on Twitter.
Thank you to everyone for your love and support during this trying time. We'd also like to clarify that our baby boy is NOT in critical condition. He is recovering well in the NICU — let's pray we can take him home by the end of the month ????

— Saab (@saabmagalona) March 7, 2018
In her blog, the new mom said posting about her daughter's death was her first step to acceptance.
She also believed that the baby girl gave her life for her mom and her twin brother.
Now, almost two months since the babies were born, Saab found a way to honor her daughter.
"I'm so happy I was able to donate 100 bags of breast milk to the Human Milk Bank today," Saab wrote on an Instagram post last March 23.
"Bittersweet that my body seems to be producing enough for twins, but it really makes me happy thinking of the babies that will get stronger because of my 'liquid gold,'" she added.
Many of the comments applauded Saab's generosity.
Fellow lifestyle blogger Patty Laurel-Filart wrote: "Saab, this made me tear up. God is using you to bless others talaga!"
Even Saab's mom Pia Magalona showed her support by simply writing, "I love you."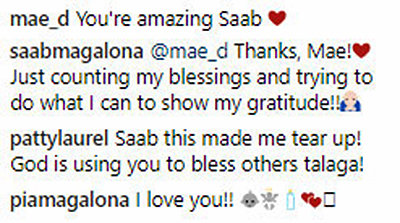 Saab said it was also her way of giving back.
"Just counting my blessings and trying to do what I can to show my gratitude," she wrote in the comments.
"Helping others really helps me heal," she added.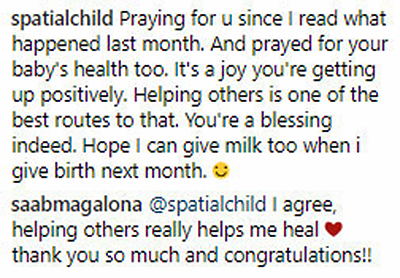 Many of her followers asked about her baby boy, who is recovering very well.
One netizen wrote that her dad and her baby girl would be very proud of her.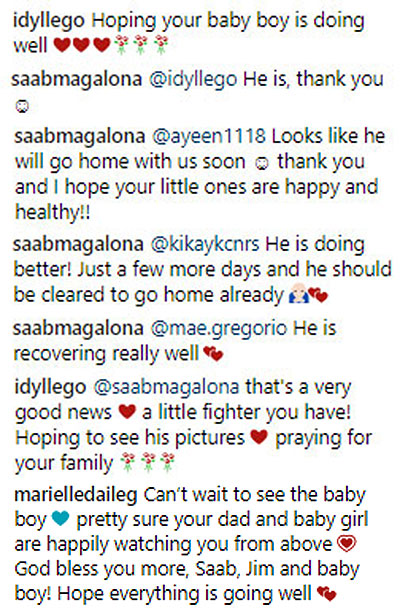 The new mom also defended her actions in response to a netizen who, in a now-deleted comment, questioned her efforts.
"My son is in the NICU, and I learned that a lot of babies, especially premature ones like my son, are in need of breast milk that their mothers, for various reasons, cannot provide," Saab said, adding that she's using social media to create awareness on the need for breast milk donations.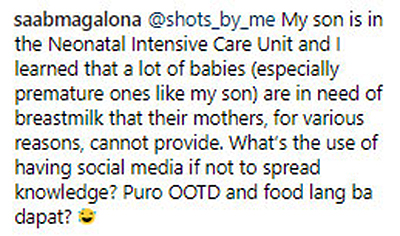 The Philippine Human Milk Bank is accepting donations via milk banks across the country.
Moms who wish to donate their excess breast milk can visit the website for guidelines on how to be a breast milk donor, how to express milk and store it, and where to bring your breast milk.
This story originally appeared on SmartParenting.com.ph.
* Minor edits have been made by the PEP.ph editors.