Meet Tony Quijano.
He is a "communicator, PR practitioner, and change maker" who works as a media relations manager in the integrated marketing communication firm, TeamAsia.
He is also a single dad to two beautiful kids, Kade Caleb, 6, and Ingrid Grey, 3.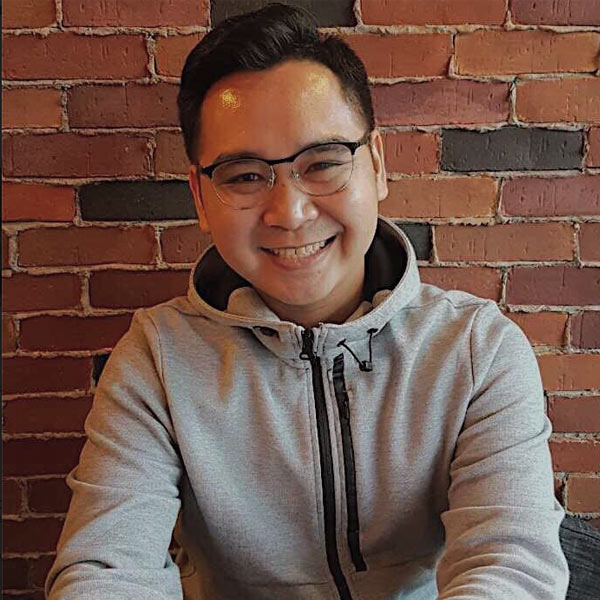 Last March 24, Tony witnessed the graduation ceremony of his son, Kade Caleb.
His daughter, Ingrid Grey, took the medal and placed it around her Kuya's neck.
In that moment, the single dad was overwhelmed with emotions.
From his daughter's simple gesture, Tony knew that he was a lucky parent.
After the ceremony, Tony took to his social media accounts to write a touching message to his two young kids.
He began, "Let me love you two a little more.
"My daughter was just a year old when I became a single Dad. My son, diagnosed with ASD [Autism Spectrum Disorder], didn't know what was going on.
"Back then, every day was such a challenge. I didn't know how I was going to raise the two of you alone.
"I was a mess, but I knew one thing: I was never ever going to walk away and turn my back from my small family.
"My beautiful daughter, headstrong and independent, while my adorable son, bubbly and full of creativity.
"The three of us embarked on a journey we call life.
"Small step, baby steps—the road to become a good Dad.
"Today, my two beautiful children held my hand and guided me up the stage.
"My daughter proceeded to place her brother's medal around his neck.
"I stood in awe, reveling in the beauty of the moment—my headstrong daughter supporting her Kuya, while my son proudly accepts his medal from her.
"Every failure, every disappointment, and every setback has brought me to where I am in life.
"To where we are of this exact moment.
"Congratulations to the both of you. I've always felt the love you've given and after what we have been through, it always has been the two of you who taught me how it is to be...a good dad.
"So, let me love you two a little more until you're not little anymore."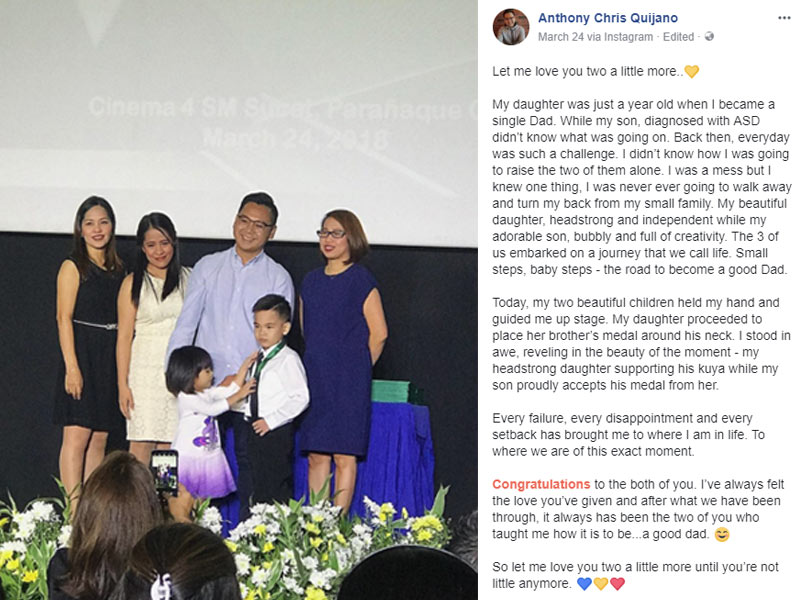 In a brief exchange with PEP.ph (Philippine Entertainment Portal) via Facebook Messenger, Tony said posting his short anecdote was his way of reminding fellow single parents to always look at the bright side.
He said, "It was such an emotional moment I shared with my beloved kids…
"If I can share that same hope, the same way my kids give me the strength each day, then I would gladly share my story to every single parent out there."
As a message to his fellow single dads, Tony took inspiration from the hit musical film, The Greatest Showman.
"I got inspired by The Greatest Showman where [the character of] Hugh Jackman gave his beautiful daughters the ability to dream big and inspire the world.
"I would like to tell every single dad, 'Love with all your heart, so that your children can see the world through your eyes.'"