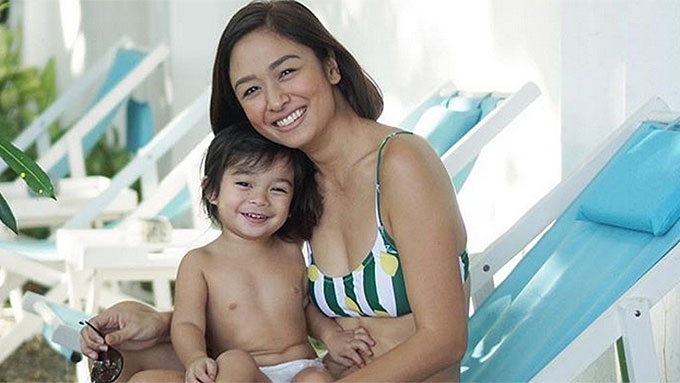 IMAGE Courtesy of Kelly Misa on Instagram
---
Host/blogger Kelly Misa is enjoying every moment of being a mother to her unico hijo, Tristan Antonio.
The 36-year-old mom has been been busier than usual with Tristan entering the early stages of learning.
"He's talking more now, and I love that he's able to express himself more now," Kelly told PEP.ph (Philippine NEtertainment Portal) in an interview last March 15, at Rustan's Your Summer Escape travel fair in Makati City.
The ANC host continued, "Nakakagulat kasi before, I just assumed na just because he's quiet, hindi nare-retain whatever knowledge there is.
"But he knows what a bulldozer is, he knows like mga things he watches on TV na he's quiet about. Now, he can actually pronounce the words and create a story.
"That just amazes me na biglang he's able to express himself now, and he's really a person now.
"Kasi before, siyempre, he's just a blob, one-way communication lang...
"So ina-assume mo na hindi niya nage-gets siguro.
"But now he knows what's up and it's a two-way thing, it's a conversation."
One of the biggest challenges she is facing is how to be a hands-on mom while working on a travel show for ABS-CBN News Channel (ANC) titled #TrendingWithKelly.
Kelly revealed she always takes along her son to work-related out-of-town trips and travels abroad.
She said, "I always bring my son with me any where I go, and I have a travel show, which is crazy.
"He's been traveling since he's four months old, and parang mas marami pa yung destinations niyang narating compared to a normal person at his age.
ADVERTISEMENT - CONTINUE READING BELOW
"He's been to Europe twice, he's been to New York, all around Asia, all around the Philippines."
One trick she has mastered is to keep Tristan entertained during their down time, explaining that the parents' mood affects the child's disposition.
Kelly said, "I think you have to have that mindset that you're there to entertain and be a mood lifter.
"I think, for most parents, lalo na yung may yaya, they kind of don't accept that fact na... 
"Lalo if you're travelling without a yaya and kayo lang ng husband mo.
"They don't accept the fact na your kid will depend on you for everything.
"And they expect na baka may yaya and all or baka mag-behave.
"It's really up to you, you're the clown, ikaw yung taga-serve, you do everything...
"Everything is on you and it's up to you to make your child happy, then it's working the other way around.
"Instead of parang dependent ka na your kid will always be in a happy mood. It has to come from you e."
Kelly said you don't really need an expensive toy to keep children entertained.
Even the smallest thing can lift their mood and make them happy.
Kelly narrated an example, "We we're stuck in the hotel waiting for our car to arrive for two hours.
"Wala kaming magawa... nakakuha ako ng rubber band and gumawa ako ng game out of it.
"It's really ingenuity, e, it's your creativity and the bonding with your child."
Kelly also reminded parents to keep off their phones around their child.
ADVERTISEMENT - CONTINUE READING BELOW
"If you're on your phone all the time 'tapos 'di mo siya papansinin, then walang engagement.
"Don't be on your phone, you put your attention to your child and that's your bonding moment."
PEP.ph also asked Kelly, between her and her husband, Carlos Fernandez, who plays as the bad cop?
She answered, "My husband is... he's more like, 'O, baka masaktan.' He's more nervous.
"Me, I'm more relaxed because I was raised also that way... and I want my son to be chill din"
Kelly clarified, "But, of course, any imminent danger, siyempre di naman ako ganun ka-relaxed.
"As long as he's in a confined and safe place, we're good."
She also expressed her gratitude that her husband gives her solid support.
Kelly said, "As much as he is nervous and scared for my son, he's also very hands-on.
"You don't really have that in most dads... the traditional dads are medyo hands-off, e."