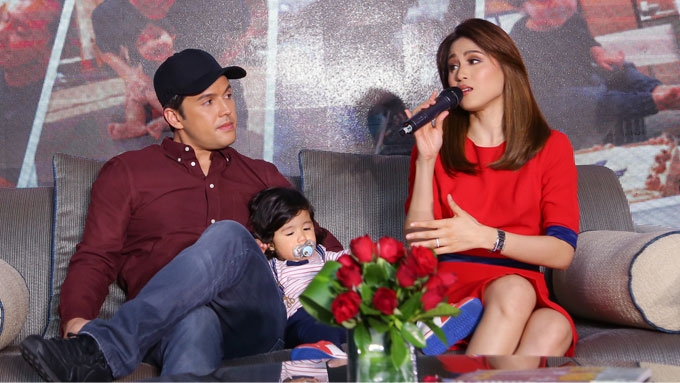 IMAGE PR
---
Severiano Elliott, aka Baby Seve, is now one year and seven months old.
As he approaches his "Terrific Twos," the son of Toni Gonzaga and Paul has started becoming curious.
At their launch as the endorsers of Red Ribbon, Toni revealed that her son is presently mouthing, "exploring every thing, eating every thing."
She added, "Pag walang pacifier 'to kinain na niya yung flower.
"He puts every thing in his mouth, and the pacifier is like a stopper…
"Every thing to him is appetizing."
During the program, the adorable baby tirelessly moved around the stage, touching every thing he sees.
"Nandun siya sa stage na destroy everything. Nasa destroyer stage po kami ngayon so pardon us…"
At one point, he wanted to jump from the stage.
Toni remarked, "Ano ito, lahat sa kanya bungee jumping."
She continued, "He was just so active… He likes to read, he likes to play with his toys.
"Gusto niyang maglakwatsa."
His other hobby, according to Daddy Paul, is to point.
Hence, that became the concept for their TV commercial. 
Paul elaborated, "When the agency and the writer presented the board to us, it's exactly what we do—he just points and we listen. 
"I just want this and want this…
"He loves to point, and he loves to point at things, and it's exactly what he does at home."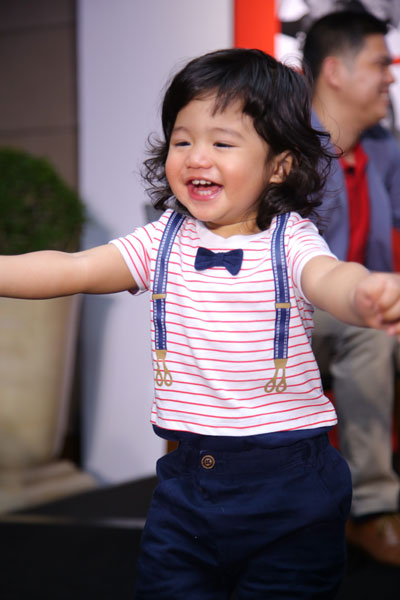 ADVERTISEMENT - CONTINUE READING BELOW
TRADITIONAL PARENTS. When asked about their parenting style, Paul answered, "We definitely want to keep it as traditional as much as possible, introducing him to the outdoors, you know, and trying to travel a lot."
For her part, Toni threw in, "I want Seve to grow up God-fearing, respectful to elders…"
While she was talking about the values, Seve was unwittingly distracting the audience.
Toni paused then with deadpan aplomb, she said, "Ah Seve, sinasabi ko yung values, e. The values, Seve…"
The Kapamilya star continued, "Obedience dun sa parents niya. Humility also. 
"Sabi ko kay Paul, I want him to grow up, you know, a humble child."
The director continued, "Yeah, I agree with all of that. 
"For me as a parent, I wanna see how much I can exercise his imagination in his mind, so he can also create. 
"Actually, I can't wait to learn from him, I can't wait to learn from his perspective, and to be able to share with him like some of our favorite things, and then see it from his point of view."
THE BOSS. As much as possible, they want their son to move freely, and do what he wants.
They both feel it's too early to set rules or or dos and don'ts.
As it is, among the first few words he understands is "no," because he keeps hearing it from his parents and the people around her.
Paul said, "He's basically the boss of the family right now. I mean he's the center of every thing. 
ADVERTISEMENT - CONTINUE READING BELOW
"Well, right now, siya yung boss. But when he's a little bit older, of course, papasok na yung discipline."
It was a good thing Toni seemed calm while Seve was doing a lot of things on stage.
The Pilipinas Got Talent star quipped, "Deep inside, internal bleeding na ako rito."