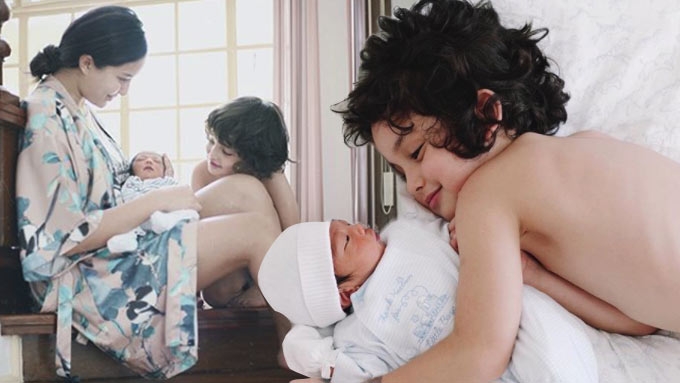 IMAGE sarahlahbati on Instagram
---
Amid their excitement for the birth of their second son, Kai, Sarah Lahbati and Richard Gutierrez had kept their sight on their firstborn Zion.
They made sure he was ready for the change.
"In the past few months, we've done quite a bit to prepare our lives for Kai," Sarah wrote in one of her recent blog entries.
"Any pair of expecting parents will know what this entails: baby clothes, baby furniture, baby bottles, schedule adjustments, and more.
"It means a lot of new changes… But it's a whole different story with Zion."
For four years, Zion had the undivided attention of his parents.
Sarah continued in her blog, "Even if he has a lot of playmates and cousins, he always had 100% of mom and dad's time, love, and attention.
"Now, he's not going to be the only one anymore.
"While I'm thankful that he's very excited at the thought of having a little brother, many moms would know that it's not always easy for a firstborn to accept having a sibling."
How did Sarah ease Zion into his role as kuya?
The key, according to the celebrity mom, was to spend more quality time with him before the baby arrived.
She said, "Yes, you're going to be really busy making preparations for caring for an infant again.
"But this may cause your firstborn to feel a little neglected.
"This is why I made it a point to have some alone time with Zion.
ADVERTISEMENT - CONTINUE READING BELOW
"In fact, we took a short trip to Hong Kong a couple of months ago that was a lot of fun.
"We made good memories while we were there."
Sarah also made sure Richard would spend "a good amount of time" with Zion.
She continued, "Once the baby arrives and you are incredibly busy caring for a newborn, it would be good if your firstborn knows he can get some attention from dad if mom has her hands full."
The Kapamilya star also requested their family members not to forget Zion when they visit Kai.
She wrote, "In the first few weeks after giving birth, relatives and friends will be coming over to visit the baby.
"This can be overwhelming and cause your firstborn to be jealous.
"Ask your friends and relatives early on to also give attention to your firstborn.
"Try to avoid them asking things like 'how is it being a big brother?' because depending on the day, it can get really old really fast.
"Instead, have them spend time playing or telling stories.
"In fact, if your friends and relatives come over with gifts for the baby, maybe including a small toy or token for your firstborn would keep him in good spirits…"
Lastly, Sarah suggested to give your firstborn time to get adjusted to the new family environment.
"Having a new baby means a lot of change.
"Try to space changes at home or in your routines so that your firstborn has time to adjust.
"Moving him from a toddler bed to a big boy bed should be done so that he doesn't think he's being forcibly removed just to make room for the baby.
ADVERTISEMENT - CONTINUE READING BELOW
"If there are certain things that you can't do with him anymore because you are physically unable to, for example reading bedtime stories or waking him up in the mornings, then think of an alternate solution and introduce it as early as possible.
"Kids need time to get used to things, but they will get there. Don't worry!"
Zion officially became a kuya on March 21.
---
Stories We Are Tracking
---