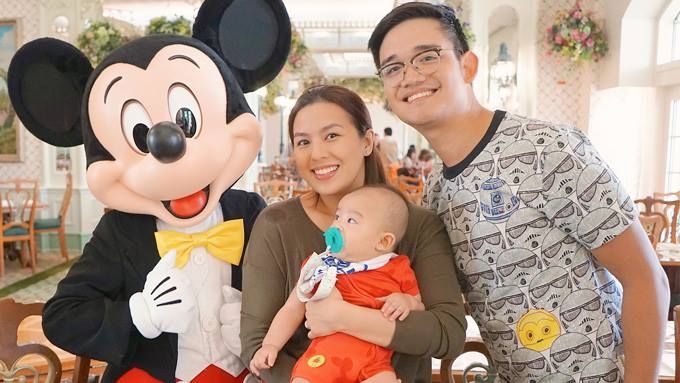 IMAGE @nikkigil on Instagram
---
How's Nikki Gil?
Browsing through her Instagram feed, she is obviously having a blast in her journey as a mom with the help of hubby and "co-producer" BJ Albert.
The couple welcomed their firstborn Nicholas Finn on November 20, 2017, the day before their second wedding anniversary. 
Since then, her social media account has turned into a virtual diary of Finn's baby milestones.
Check out his "first-time giggles," which Nikki described as "nakakabaliw TBH [to be honest]."
Here's Finn "enjoying his first children's party," while the celebrity mom opted to enjoy "her second ice cream cone."
The little boy also learned to be "friends" with his momma's long-time pet Charlie.
This month was highlighted by the baby's first international trip.
With his cousins in tow, the baby had his "first Disney adventure" in Hong Kong Disneyland.
Motherhood suits Nikki, who doesn't seem to miss the glitter and glam of showbiz.
Her caption for this post read: "Never mind my big mama puson, lungad on my shirt, aching back, half-finished meals, fatigue, eye bags, postpartum hair and all that other stuff.
"That smile makes it all worth it [heart emoji]."
She quipped, "Pero pag ako gumanda ulit... humanda kayo. HAHAHAHA"
It's a bonus her baby looks like her.
Instagram user @ itosihanie_yah commented, "So Nikki! I mean what more happiness can you feel when you look exactly like your child."